Syrian Photojournalist Embraces Truth Telling in the Face of War and Personal Tragedy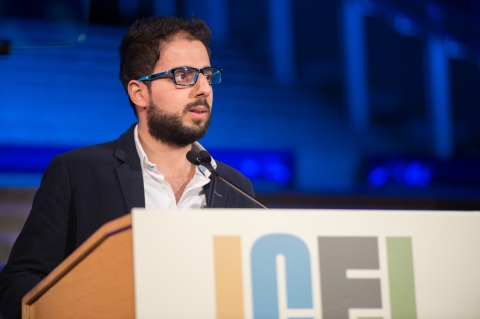 Karam al-Masri, a 26-year-old Syrian photojournalist who brought the world heartbreaking images of the siege of Aleppo, says he felt despair at the violence that wracked his hometown but never thought of giving up his role as a truth teller.
Accepting the Knight International Journalism Award at the International Center for Journalists' (ICFJ's) Nov. 9 gala in Washington, DC, al-Masri spoke of his journey from citizen journalist to professional during the war in which he lost his mother and aunt. He himself was kidnapped by ISIS and held for six months.
A law student when the war began, al-Masri first used a mobile phone to take pictures of anti-regime demonstrations to shed light on what was happening in Aleppo. He said both his skills and commitment grew over time. Equipped with a new camera, he joined local journalists who became reliable sources of information after foreign journalists left to escape the danger.
"Every day was a struggle to survive," he said. "I do not deny that I felt despair. But I never gave up."
In 2013, al-Masri became a freelance photographer for the Agence France-Presse (AFP). His photographs of young war victims inspired offers of help from Syria and abroad. He said the pictures taken by local photographers ensured that the world saw the devastation of his country.
"Without those pictures, the Syrian regime would have wiped out cities with its arms and chemical weapons without anyone finding out," he told an audience of nearly 600 media leaders and supporters in Washington.
"My country has sunk into a swamp of war," al-Masri said. "It is drowning. More than 500,000 people have been killed over the past six years. Millions have been forced to leave their homes. It hurts me to see what has happened to my country. Syrians have lost everything. Even their dreams no longer exist."
Al-Masri said he was forced to leave Aleppo when the Syrian regime took control of the city in late 2016. He recently secured asylum in France.
He said his commitment to covering the news in war zones has only intensified. "Despite everything, I have gained a great deal by going through this experience, but mainly I have fallen in love -- in love with being a journalist and with conveying the truth," he said.
Watch a tribute video about al-Masri. Read his full remarks.