2011 Knight International Journalism Award
Thet Sambath
Documentary filmmaker and senior reporter
Phnom Penh Post, Cambodia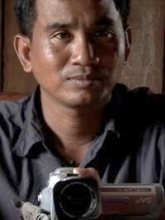 Thet Sambath is widely regarded as one of the country's best investigative reporters, and his stories, published in Cambodia's premier English-language newspaper, have been syndicated all over the world. As a child, Sambath lost his parents and brother to the brutal regime of Pol Pot. It was a tragedy he shared with countless other Cambodians across their small country—the survivors of a genocide with more than 1 million deaths through political executions, starvation and disease.
On a mission to grasp murder on that scale, Sambath spent a decade tracking down and winning the confidence of the Khmer Rouge's No. 2 man, Nuon Chea, living as a free man near the border with Thailand. He used the talents he had developed in his day job as an investigative reporter regularly breaking stories of scandal and corruption, first at the Cambodian Daily and currently at the Phnom Penh Post.
Sambath conducted scores of interviews with the reticent Nuon Chea. Then,working with British filmmaker Rob Lemkin, he turned his reporting into the award-winning "Enemies of the People" documentary. The moving film was short-listed for an Oscar this year, when it also won the Special Jury Prize/World Documentary at the Sundance Film Festival. Sambath's film went on to win 30 more prizes.
In the past, Sambath reported for Cambodia Today and Cambodia Times. He has worked for the American Refugee Committee as a paramedic on the Thai-Cambodia border, as police interpreter for the United Nations Transitional Authority in Cambodia (UNTAC); and as a human rights investigator for the Cambodian League for the Promotion and Defense of Human Rights (LICADHO). Since 1994 he has worked as producer, translator and camera operator for international broadcasting organizations including the BBC, WGBH's Frontline, NHK and NBC. In 2002, he traveled to the United States on a Jefferson Scholarship.