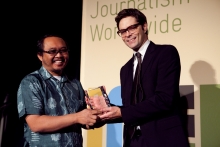 Tosca Santoso founded Indonesia's first independent radio news agency in 1999. He started with a team of seven, who produced 15 minutes of news for seven radio stations each day. KBR68H is now Indonesia's largest radio network. Every day it transmits eight hours of news over 720 radio stations to 22 million listeners.
For the first time, many Indonesians now can listen to public-service radio programs on topics such as good governance and human rights. Santoso offers toll-free phone lines and text messaging, allowing listeners to talk with decision-makers on the air.
This open format is particularly important in the world's fourth most populous country, where engagement in public policy had been strongly discouraged in the Suharto era.
Other countries, including Nepal, Russia, and most recently Pakistan, are replicating Santoso's model of radio-news coverage.