Tributes to Whayne Dillehay, Quality Journalism Advocate
ICFJ celebrates the life of former senior vice president Whayne Dillehay, who lost a long battle to lung cancer April 8, 2009. Whayne directed expansion of ICFJ's work worldwide with dedication and passion for 14 of ICFJ's 27 years. He touched the lives of many thousands.
Former ICFJ Presidents George Krimsky and David Anable have written memorials to him here.
When I first met Whayne Dillehay in the summer of 1990, I knew immediately he was the one.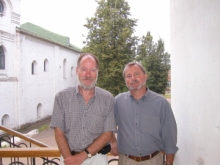 The Center was growing fast, and we needed someone who could bring order to a process in danger of getting away from us. We were out in Reston in those early days, and this guy knew what made Washington, where we generated many of our programs, tick. He had worked on the Hill for prominent congressmen, had a journalism background and was now editing an economic magazine in the capital.
Beyond those credentials, though, Whayne had a calming, competent way about him, a kind of mellow bemusement that could serve as a counterpoint to my more frenetic disarray. He also genuinely seemed to believe in what we were doing for developing-world journalists (almost no one else was at the time).
We were sitting on a bench in Lafayette Park that day, and he was wearing sunglasses, all part of a prearranged plan to meet quietly during his lunch hour so his boss wouldn't know he was job hunting. A very Washington scene. His concern seemed to be well grounded: When Whayne left the magazine, it didn't last long.
Although I didn't know it at first, Whayne had the true soul of an internationalist. Why do you think he retained that Celtic "h"? It was was all to our gain. Whayne always said he learned more from our visiting journalists than they did from us, although a fair share of them disagreed.
Under the guiding hand of Tom Winship and Jim Ewing, Whayne helped us become a clearinghouse for international journalism training and move our center of gravity overseas with the Knight International Journalism Fellowships. When the Soviet Union collapsed, his longstanding interest in the east came to the fore in struggling states like Georgia.
The harder the job or environment was, the more he seemed to relish it. "Oh, Man" was the worst epithet I ever heard from him. In fact, for such a mild-mannered guy, Whayne attracted a lot of excitement – improbable fixes and strange encounters that later became great stories.
Some of the best memories come from outside the office. Tag teaming against the bureaucracy on C Street. Brainstorming sessions in New Hampshire and Boston. Those wonderful evenings on the deck in the Virginia woods, where he, Jo Ann and the boys, with their menagerie of animals, welcomed journalists and staff. Bar hopping in Moscow ...
Whayne stayed on after I left the Center in 1996, overseeing the transition to Washington, where I don't think it was coincidence that he chose an office around the corner from Lafayette Park.
It didn't surprise me that the Dillehays moved to Alaska. The adventure fit. But the distance was daunting. Whayne's colorful missives from the wilderness before his health failed buoyed us all up.
We miss him.
-- George Krimsky
---
Whayne Dillehay was dedicated to quality journalism, to ICFJ, and to all the fine traditions and ideals that the Center had inherited from its founders. And what a character he was, too...
I wasn't quite sure what to make of this former Capitol Hill staffer when I first met my already well-established Number Two at ICFJ's headquarters on H Street. In between keeping the Center organized and firmly on its journalism track, Whayne was full of tales of the banana-chomping Senators (hint: he worked for one from New York) and the intricate political deals of his past career. And it rapidly became clear that his love of serving others, especially journalists, was more than the equal of his outrage at injustice of every sort. His drive, his constant flow of ideas, his competence were formidable. All this, together with his humor and humanity, made him both indispensable and a hugely enjoyable colleague.
Working with Whayne was fun! Talking with Whayne was never boring! Discussing politics with Whayne was not to be missed! As an ignoramus about Washington and its curious ways, I found him to be an unfailing source of insider information and penetratingly pithy views. He educated me in how DC and the government worked -- and didn't work -- as well as teaching me ICFJ's ropes.
He loved the Center and all that it was doing to spread the highest standards of journalism around the globe. He loved to travel and see ICFJ's activities and people on the ground. He loved the Knight International Journalism Fellowships Program in particular, the remarkable journalistic talent it and other programs deployed to uplift the struggles of our colleagues across the continents, the courageous local journalists that ICFJ helped and that he often later got to meet. He himself represented precisely the sort of integrity, professionalism and flair that the Center was designed to foster.
It was a sad day for ICFJ when he and his lawyer wife, Jo Ann Farrington, abandoned DC for new careers and adventures in Alaska. It was a sadder day still when we heard that he had lost his battle with a long illness. We shall miss him greatly, but retain so many warm memories of such a vital individual. We smile as much as we would weep.
-- David Anable