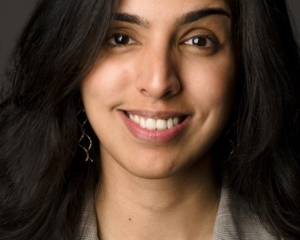 Aarti Shahani was a Bringing Home the World Fellow in 2014. 
Aarti Shahani is a reporter based in San Francisco, and she recently accepted a position as a tech correspondent for NPR. Prior to this, she worked as a freelance journalist contributing to NPR, KQED, Marketplace and Al Jazeera. She has received a regional Edward R. Murrow award for her coverage of Silicon Valley; and an Investigative Reporters and Editors award, as part of a team reporting on the criminal justice system.  Shahani was a Kroc Fellow at NPR. She also received a masters degree from the Harvard Kennedy School, with full funding from a university grant and the Paul and Daisy Soros Fellowship. Shahani got a BA in anthropology at the University of Chicago and hails from Flushing, Queens.
Project Description: Mobile tech companies are now sprouting up where the Arab Spring revolutions began. Aarti will visit these start-ups and share the stories of the entrepreneurs and young people trying to use technology to create hope and opportunity.