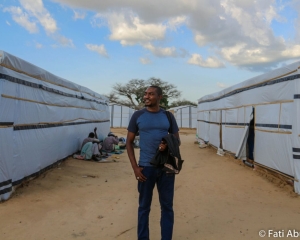 Abubakar Ibrahim, a Nigerian writer and journalist, is the 2018 Michael Elliott Award winner. He currently works as a news editor at the Daily Trust in Abuja, Nigeria. Ibrahim began his journalism career as an intern at Vanguard Newspaper in Jos from 2006 to 2007. In 2009, he began working at the Daily Trust newspaper as the editor of the arts and ideas pages. Ibrahim has also completed extensive reports in South Korea, Germany, Poland and Colombia.
In 2013, Ibrahim was awarded the Gabriel Garcia Marquez Fellowship in Cultural Journalism and most recently, the Ochberg Fellowship by the Dart Center for Journalism and Trauma at Columbia University. In 2016, he participated in the Journalists Forum for World Peace in South Korea. Ibrahim is also a recipient of the 2015 Civitella Ranieri Fellowship and the 2017 Goethe-Institut & Sylt Foundation African Writers' Residency Award.
In addition, Ibrahim has written two books. His novel, "Season of Crimson Blossoms" won the 2016 NLNG Nigeria Prize for Literature. His other book, "The Whispering Trees," comprises short stories. It was shortlisted for the Caine Prize for African Writing and longlisted for the Etisalat Prize for Literature. In 2014, Ibrahim's name made it to the Hay Festival's Africa39 list.
Ibrahim studied mass communication at the University of Jos and received his bachelor's degree in 2006.