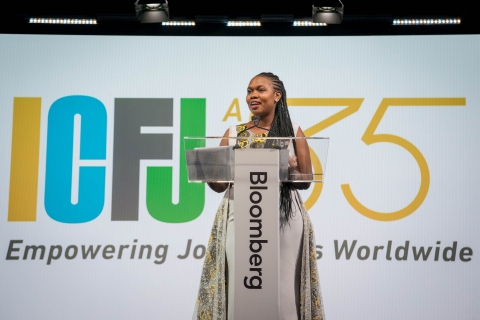 The International Center for Journalists (ICFJ), the ONE Campaign, and the Elliott family are happy to announce a call for entries for the Michael Elliott Award for Excellence in African Storytelling.
The award honors up-and-coming journalists in Africa who strive to strengthen people's voices and illuminate the transformational change taking place on the continent. The award entries must represent groundbreaking journalistic work published between December 1, 2021, and December 1, 2022. Winners will be selected on the quality of their articles and the impact their work has had on communities. We welcome excellent submissions in all media, especially those that demonstrate analytical skills in addition to outstanding writing ability.
The winners will receive a $5,000 cash prize and a personalized crystal award. The winners will have an opportunity to spend up to two weeks at The Economist headquarters in London, or to complete a tailored study tour of US newsrooms.
Eligibility
The contest is open to English-speaking journalists working in Africa for print, broadcast, and online news media. Applicants must have no more than 10 years of journalism experience.

Applicants must submit one published piece that exemplifies Africa through thoughtful reporting and excellent storytelling. We are looking for impactful investigative or explanatory pieces, especially those illuminating transformational change in Africa.

A copy of the published story or broadcast clip must be submitted in English. Works in other languages must include English translations. We welcome submissions from print, broadcast, or digital journalists. Multimedia submissions may include web, audio, video, visual, or mixed media.

The submitted story must be published between December 1, 2021, and December 1, 2022.
A distinguished international jury including media leaders from the US, UK, and Africa will select the winners. We will reach out to all applicants to notify them of their status by the spring of 2023.
The application form for the 2023 cycle is available here. The deadline for applications is January 31, 2023.
About the Award
The Award was established in honor of Michael Elliott, an outstanding editor, philanthropist, and former ICFJ director, whose life was a testament to the power of storytelling to bear witness to and improve the human condition. Elliott served as a distinguished editor at The Economist, Newsweek, and Time before becoming CEO of ONE. In 2016, he had spoken of his dream to establish an award that would bring together his belief in great journalism with his commitment to progress in Africa. This prestigious annual award honors emerging journalists in Africa who strive to strengthen people's voices and illuminate the transformational change taking place on the continent. 
Past award winners include Mercy Juma and Dorcas Wangira of Kenya; Kiki Mordi, Abubakar Ibrahim, and Zainab Bala from Nigeria; and Bernadette Vivuya from the Democratic Republic of Congo. Wangira's award-winning story, "The App and The Cut," covered the harm caused by female genital mutilation and the hope offered by five high school girls who invented an app to connect vulnerable girls with resources and rescue centers. Juma's story, "Teen Mums of Kwale," tells of primary school girls whose families make the controversial choice to let them use contraceptives even though the practice is taboo in the Muslim communities of Kenya's Kwale County. Ibrahim's piece, "All That Was Familiar," chronicles the struggle of two women --one from Cameroon and one from Nigeria -- to find their loved ones who have been internally displaced by Boko Haram's insurgency. Mordi's story, "Sex for Grades," exposes sexual harassment in African universities. Read more about Mordi, the 2020 award winner, here, and Bala and Vivuya, the 2021 award winners, here. Read more about Khalid Bencherif and Nalova Akua, the 2022 award winners, here. 
On September 22, 2022, Khalid Bencherif and Nalova Akua participated in a virtual award presentation held at The Economist's headquarters in London. The winners' award remarks are below.
Program Dates:
12/1/2022 - 10/31/2023