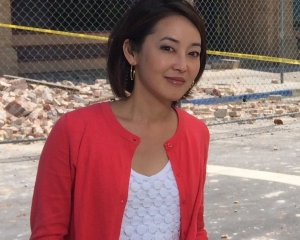 Akiko Fujita was a Bringing Home the World Fellow in 2015.
Akiko Fujita is a freelance multimedia correspondent with more than a decade of experience. Her passion for storytelling has taken her all over the U.S. and Asia, where she's covered some of the biggest stories of the last several years, including the 2011 tsunami and nuclear disaster. She currently works as a Los-Angeles based freelance reporter, filing stories for digital, radio, and TV outlets. Prior to her move stateside, Akiko worked as a Tokyo-based correspondent for ABC News. Prior to that, she worked in Seattle, as a general assignment reporter for ABC-affiliate, KOMO-TV. Her work has also been featured on ESPN, The Wall Street Journal, CNN, and PRI's The World. She is a proud graduate of the University of Southern California, where she majored in Journalism and International Relations.
Project: The global appetite for tech gadgets is fueling a dangerous tin mining boom on Bangka Island, Indonesia, leaving behind an environmental disaster unlikely to recover for decades. Akiko's project will examine how the American demand for smartphones and laptops has transformed the lives of Bangka residents, and attempt to find concrete solutions to end the destructive cycle there.