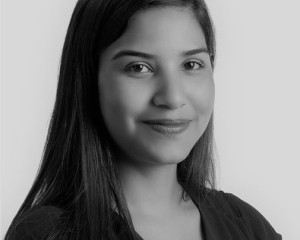 Ana Paola Bazo Reisman is a 2019 Professional Fellow from Latin America with ICFJ. 
Ana Paola Bazo Reisman was born in Lambayeque, Peru, in 1991. She holds a bachelor's degree in communication sciences and has worked in both print and digital media. After graduating in 2014, she became a legal correspondent for Gaceta Jurídica magazine, an experience that shaped her interest in human rights, constitutional law and access to justice. 
In 2015, she collaborated in the investigative and data journalism piece "Justice in Peru: Five big problems" ("La Justicia en el Perú: Cinco grandes problemas"), which showed the deficiency in the Peruvian legal system. She currently works as a full-time digital reporter and occasional script radio writer at Radio Programas del Perú (RPP), the biggest broadcasting and digital news company in her country. 
Ana covers stories that are generally focused on politics, social issues and gender justice. Last year, she co-created "Missing" ("Desaparecidas"), an interactive web documentary project that revealed the lack of an accurate national database system and other deficient policies regarding searching for women who go missing in a context of gender violence in Peru.