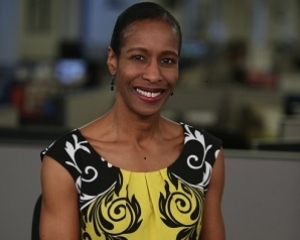 Ann Simmons was a Bringing Home the World/Social Justice Fellow in 2014.
Ann Simmons is currently a video journalist for the Los Angeles Times but has served as a metro reporter and national and foreign correspondent. She was based in Russia for Time Magazine where she reported on the aborted coup against former Soviet President Mikhail Gorbachev, the rise to power of Russian president Boris Yeltsin and the breakup of the USSR. As bureau chief in Kenya and South Africa for the Los Angeles Times, she covered conflicts, politics and social and economic issues in more than 30 African nations and she has also served assignments in Bosnia, Haiti and Iraq. She was part of the team of LA Times reporters whose coverage of wildfires in Southern California won a Pulitzer Prize for breaking news in 2004. As a national reporter for the Times she covered Hurricane Katrina and was subsequently based in New Orleans where she chronicled the city's rebuilding. Ann, who was born in London, England, holds double honors Bachelor of Arts degrees in Russian and Norwegian and a Master's degree from Columbia University's Graduate School Journalism. She was a Nieman fellow at Harvard in 2003.
Project: Ann will examine "The Black Experience in post-Soviet Russia" by exploring the growing plight of people from Sub-Saharan Africa and assessing the status of Russian-born black citizens.