60 MINUTES, CBS News Correspondent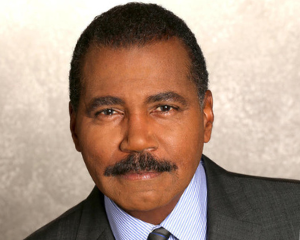 Bill Whitaker has covered major news stories domestically and across the globe for CBS News over four decades. He is the 2018 winner of the RTDNA's highest honor, the Paul White Award for career achievement. He was named a 60 MINUTES correspondent in March 2014; the 2020-'21 season will be his seventh on the broadcast.
In May 2019, Whitaker was the first to report on the evidence states were using to sue the makers of generic drugs in what state's attorneys general described as a massive collusion and price fixing scheme that cost consumers billions.
Whitaker's investigation with The Washington Post into the origins of the opioid crisis has won more awards than any other 60 MINUTES work. The first report in the two-part series revealed how the DEA's efforts to curb the epidemic were hampered by a law pushed by drug industry lobbyists. The report was credited with forcing the law's chief sponsor, a congressmen, to withdraw his nomination for Trump Administration's drug czar. The next installment told how the biggest opioid case in U.S. history against one of the world's largest drug distribution companies was settled by the government in a deal that shocked DEA agents. Among the eight awards the reporting won are the DuPont-Columbia University award, the Peabody, an Emmy, and an RTDNA Murrow award.
Whitaker's 60 MINUTES reporting has taken him to Asia, Africa, Europe, Mexico and the Middle East in his five seasons, including a timely investigation of the vetting process Syrian refugees undergo before coming to the U.S. and an interview with the highest ranking North Korean official to defect in decades. His investigation of the H-1B visa program's loophole allowing companies to replace Americans with foreign workers won a Sigma Delta Chi award; another report, on the biggest data leak in Swiss banking history, won him an Emmy.
Domestically, his stories have provided keen insights into the hot-button issue of race and policing in America with his reports from Cleveland, Chicago and most recently, Tulsa, Okla., where he got the news-making first interview with the city police officer accused of manslaughter for shooting an unarmed black man. His stories have also drawn attention to death penalty issues in the U.S. and America's heroin epidemic. Whitaker has chronicled the epic battle to capture and hold Mexico's infamous drug lord Joaquin "el Chapo" Guzman, gaining rare access to investigations on both sides of the border.
Before joining 60 MINUTES, Whitaker covered virtually all of the major news stories in the West since he was posted to Los Angeles in 1992, reporting regularly for the CBS EVENING NEWS and other CBS News broadcasts. He also has worked for SUNDAY MORNING, turning out feature stories and thoughtful profiles, including on Barbra Streisand, Norman Lear and Gladys Knight. One of his most memorable SUNDAY MORNING profiles was of ex-boxer Mike Tyson. He has interviewed First Lady Michelle Obama and Mexican President Enrique Pena Nieto.
Whitaker frequently reported from overseas as well, covering the funeral of Nelson Mandela from South Africa. He also did pieces from Japan on the Fukushima nuclear disaster and from Haiti after the tragic earthquake there. He reported from Kabul during the early stages of the War in Afghanistan.
In 2008, he covered Mitt Romney's presidential campaign. He was CBS News' lead reporter on the 2000 presidential campaign of George W. Bush.
Prior to his assignment to Los Angeles, Whitaker served as CBS News' Tokyo correspondent (1989-'92). There, he covered stories throughout Asia, including the pro-democracy uprising in Tiananmen Square, military coup attempts in the Philippines and the enthronement of Japan's Emperor Akihito. He was in Baghdad for the build-up to Desert Storm.
Before that, Whitaker was based in Atlanta (1985-'88), where he won an Emmy for his reports on the collapse of Jim and Tammy Bakker's television ministry and covered the 1988 presidential campaign of Michael Dukakis. Whitaker joined CBS News as a reporter in November 1984.
Previously, Whitaker was a correspondent for WBTV-TV, the CBS affiliate in Charlotte, N.C. He began his broadcast journalism career at KQED-TV in San Francisco, where he was a producer, associate producer and researcher/writer.
Whitaker was born in Philadelphia on August, 26, 1951; he was graduated from Hobart and William Smith Colleges with a B.A. degree in American history and from Boston University with a master's degree in African-American studies. Whitaker also holds a master's degree in journalism from the University of California, Berkeley. He was awarded an honorary Doctorate of Humane Letters from Hobart and William Smith Colleges in 1997.
ICFJ Tribute to Journalists 2021