Carla Beatriz Ascencio Barahona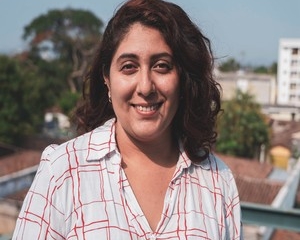 Carla Beatriz Ascencio Barahona is a 2019 Professional Fellow from Latin America with ICFJ. 
Carla Ascencio is a journalist and videographer from El Salvador. Currently, she is a multimedia producer for Disruptiva.media, a digital magazine focused on science, technology and education. She has a degree in Social Communications from Universidad Centroamericana José Simeón Cañas (UCA). 
Previously, she worked as a multimedia journalist for four years at El Faro, a well-recognized digital newspaper based in El Salvador. There, she was the sole video editor and journalist and had the opportunity to work on stories about education, arts, culture, violence and social inequality. 
She has also collaborated with Revista Factum, another independent journalism publication. As a freelance video producer and editor, she has also produced videos for nonprofit organizations, edited commercials, and has experience in film production. Carla recently assisted in the production of the Salvadoran documentary series "Blanca, Oscura, Negativa". She is interested in film and transmedia storytelling for fiction and non-fiction.