Co-Founder and Director, El Faro, El Salvador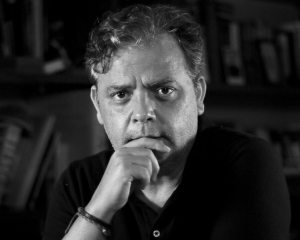 Carlos Dada is the winner of the 2022 ICFJ Knight Trailblazer Award.

Carlos Dada is the co-founder and director of the Salvadoran digital news outlet El Faro ("The Lighthouse"), known as the first digital-only news site in Latin America. Dada is the winner of the ICFJ Knight Trailblazer Award for 2022 in recognition of his hard-hitting investigative reporting, lyrical writing and visionary leadership.

Journalist Dada and entrepreneur Jorge Simán founded El Faro in 1998 to be editorially independent of any government or political party and to defend freedom of expression and the press. Since then, El Faro has become known for its fearless coverage of human rights violations, corruption, violence, inequality and the aftermath of the country's civil war and is now one of the most renowned media in Latin America. El Faro covers issues all across Central America, with a unique mix of investigative and narrative techniques that has become a reference for journalism in Latin America.
 
Due to their work, Dada and his team have been threatened by criminal structures and attacked by successive governments of El Salvador, including the current president, Nayib Bukele. In 2022, Canada's Citizen Lab revealed that the phones of Dada and 21 of his colleagues were repeatedly hacked by Pegasus spyware – at a time when El Faro was investigating the government's secret links to criminal gangs.  A Citizen Lab researcher called this hack "jaw-droppingly aggressive," and Dada has said that two states are responsible for the breach of his private life: the El Salvador government and the Israeli government, whose Ministry of Defense authorizes or vetoes any sale of the malware.

While directing El Faro and mentoring dozens of young journalists in the outlet's nearly 25 years, Dada is also known for his own reporting and writing. He has reported from various conflict zones including Iraq, Venezuela, Mexico, Guatemala and, most recently, Honduras and Nicaragua. He spent years researching war crimes, including the assassination of Archbishop Oscar Arnulfo Romero. He has also reported on drug trafficking, migration and environmental issues in Central America.
 
Under Dada's leadership, El Faro's work was key to investigations into corruption of former Salvadoran officials from across the political spectrum, including former presidents Mauricio Funes and Antonio Saca, and former Attorney General Luis Martínez.

Dada has received the Maria Moors Cabot Award, the LASA Media Award, the Anna Politkovskaya Award and the Gabriel Garcia Marquez Award, among others. In 2005, he was a John S. Knight Fellow at Stanford University. He is also a fellow of the Cullman Center for Scholars and Writers at the New York Public Library.

He is now directing El Faro under severe harassment from the El Salvador government. At this point, he says, his three goals are to save El Faro, to preserve its journalism and to keep his team safe. 
ICFJ Tribute to Journalists 2022