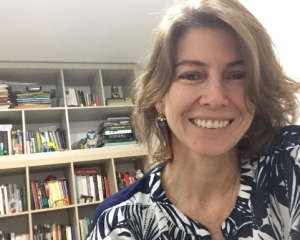 Catalina Villa was a 2017 Professional Fellow from Latin America with ICFJ.
Country: Colombia

Organization and Position: With a ten year experience as cultural editor in newspaper El País, I serve currently as independent journalist interested in literature and cinema affairs. I was communications officer for the 8th International Film Festival in Cali in 2016, and currently the literary officer for the 3rd International Literature Festival Oiga Mire Lea, also in Cali. I also still write as a freelancer at newspaper El País and Nexos Magazine.
Favorite digital tool and why: Instagram, because images are so expressive and can say so much about any situation.

Project Proposal: I am currently working on a cultural digital magazine with emphasis on cinema and literature.

Proudest Professional Accomplishment: Interviewing Cuban writer Leonardo Padura, having as a result an outstanding written piece which reflects how hard is the life of a writer in Cuba; positioning the cultural magazine Gaceta as the best Sunday supplement in Colombian newspapers; a written profile of Antonio María Valencia, founder of Cali's Music Public School in the early 1940`s. He was a misunderstood cultural pioneer.