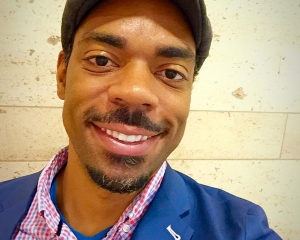 Channing Joseph was a Bringing Home the World Fellow in 2016.
Channing Joseph is a San Francisco-based journalist who covers politics, social inequality and other topics for Truthdig, The Guardian and MTV News, and he has previously been an editor and writer on the staffs of The New York Times, The New York Sun, and The Associated Press. His articles have appeared on the front pages of prominent papers, led the home pages of major sites around the world, been featured on TV and radio, and gone viral on the web. He has also edited stories that went on to win the Polk Award and the Pulitzer Prize. Channing holds bachelor's degrees in philosophy and theater from Oberlin College and a Master of Science degree from Columbia University's Graduate School of Journalism. He has taught undergraduates at Oberlin and the State University of New York in Plattsburgh, and his stories are assigned reading in high school and college courses across the nation. He hopes to return from the BHTW fellowship with greater insight into how we can solve the baffling problem of social isolation in our increasingly interconnected world.
Project: This project will explore Hikikomori, a complex and poorly understood psychological condition in which young people avoid all social contact and can even refuse to leave their bedrooms for years. It is an epidemic in Japan, affecting up to 2 million. The condition has been growing across the East Asian nation for the last two decades, and leading medical and psychiatric researchers now have evidence that it is spreading to other countries, including the United States, and raising concerns about how to combat the disorder here.