Christo Grozev & Bellingcat
Executive Director of Bellingcat, Global Investigative News Outlet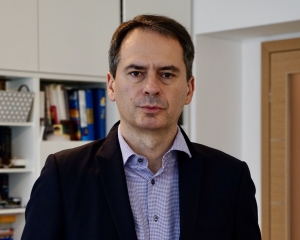 Christo Grozev is the winner of the 2022 ICFJ Innovation in International Reporting Award.

Christo Grozev is the executive director and lead Russia investigator for Bellingcat, an investigative journalism group that specializes in using open-source intelligence and networks of professional and citizen journalists to expose the truth about war, human rights abuses and the criminal underworld. Grozev and Bellingcat are the recipients of the 2022 ICFJ Innovation in International Reporting Award.

In his work at Bellingcat, Grozev has revealed who was behind the poisonings of opposition leader Alexei Navalny in Russia and double-agent Sergei Skripal and his daughter in the United Kingdom. He and his Bellingcat colleagues uncovered evidence that identified senior Russian officers complicit with the downing of Malaysia Airlines Flight 17 over Ukrainian airspace. Most recently, he and the Bellingcat team have been debunking Russian disinformation in the war on Ukraine and building a database of social-media documentation of Russian war crimes.
 
After a career as a European radio journalist and executive, Grozev joined Bellingcat in 2015. He became its executive director in 2022, replacing founder Eliot Higgins, who then became creative director. Grozev now leads a team of 29  full-time researchers and trainers,  and more than 50 contributors and volunteers from around the world.

Grozev began his journalism career at a newspaper in his native Plovdiv, Bulgaria, at age 17. He later moved to radio, working as a reporter for Radio Free Europe while studying, and became one  of the founders and the CEO of Bulgaria's first commercial radio station, Aura, entirely run by university students. Working with the U.S. company, Metromedia, he launched radio stations across Russia and Eastern Europe, then began buying radio stations in Russia and other countries. He now owns or partly owns radio stations and other media in the Netherlands and Ukraine.

Grozev and Bellingcat were featured in a May 2022 report on CBS' "60 Minutes," in which Grozev explained how he tracked and identified the agents who poisoned Sergei and Yulia Skripal, and Navalny. He said that he and his team are exposing Vladmir Putin's "industrial-scale assassination program on his own people." By investigating Russia's war crimes in Ukraine, Grozev said, the team is building a database that can be used in the future for "something like a Nuremberg trial" against Putin and the perpetrators of atrocities.
 
Grozev has received several awards, including the Nannen Prize for Investigation in 2021 for the Navalny exposé (with Der Spiegel and The Insider), and the 2019 European Press Prize's Investigative Reporting Award for the revelations on the poisoning of the Skripals.

Higgins founded Bellingcat in 2014 after he began using social media posts and satellite data to expose disinformation and war crimes in Syria. He named his venture Bellingcat after the fable about mice who wanted to put a bell on a cat to warn them of its coming.

Bellingcat, which is based in the Netherlands, has trained more than 4,000 journalists and war crimes investigators in its techniques of geolocation, verification and data mining, according to "60 Minutes." In addition to work led by Grozev on Russia, Bellingcat has conducted investigations into Syria's use of chemical weapons against its people, the civil war in Yemen, the killings of civilians by the Cameroon armed forces, the white-supremacy motives of a gunman who killed more than 50 people at two New Zealand mosques, and the Jan. 6, 2021, insurrection at the U.S. Capitol.

Bellingcat sometimes uses techniques – as a last resort – that are considered unconventional by U.S. and other media organizations, including buying data on the black market, as Grozev did in his investigations into the poisonings. Bellingcat is transparent about its sources and methodology, including in the cases in which it buys information.
ICFJ Tribute to Journalists 2022