Fuller Project for International Reporting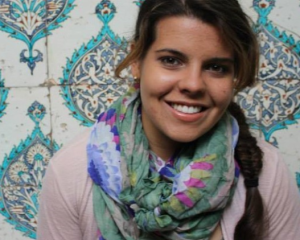 Dominique Bonessi was a Bringing Home the World Fellow in 2016.
Dominique Bonessi is a freelance multimedia reporter, currently with the Fuller Project on International Reporting. Dominique has a broadcast news background, including work with NPR and Al Jazeera America. She has also contributed to several online organizations like Viviana Hurtado Ph.D.'s The Wise Latina Club, USA Today's breaking news team, and Slant News.
Bonessi recently graduated cum laude from the George Washington University (GWU) with double bachelor's degrees in Journalism and Mass Communications and Arabic Language and Culture. At GWU, she was awarded the prestigious Manheim-Sterling Research award for her research in Jordan where she looked at how social media plays a dynamic role in the conversation on Jordanian women.
As an Arabic-speaking Cuban-American, Dominique is dedicated to telling stories about minority groups such as women and migrants with a focus on the Middle East. While in Jordan, she created a video project for Reclaim Childhood, a non-profit teaching sportsmanship and English to underserved Iraqi, Palestinian and Syrian female refugees. She also hopes to hone in on stories about human rights abuses worldwide. While at PBS Newshour, she has contributed stories of human rights abuses in Cuba and attacks on freedom of press worldwide. Dominique hopes that this program will allow her to start a career in international reporting and better understand of the plight of refugees.
Project: The project "Girl Learning" will emphasize data-driven reporting on female Syrian refugees in Turkey and how they continue their education while enduring other challenges of adjustments to a new country. Roughly 450,000 Syrian refugee children do not attend school in Turkey; this poses a problem for the future of Turkey and Syria if they have an uneducated population that will be unable to find work. For girls, this means a future with a gender gap in the workforce. This video-audio project will focus on three to four Syrian children and their experience with education and new life in Turkey.