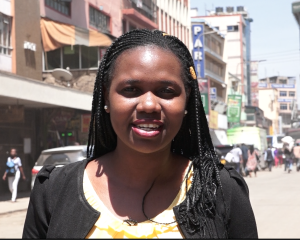 Dorcas Wangira is an early career journalist passionate about science and human interest features. She is a Features reporter working with Citizen Television, Kenya's leading TV network. She has previously worked as a Special Projects reporter and news correspondent for KTN NEWS, Kenya's only 24-hour news network.

She believes in the power of the human spirit and amplifying the voices of those often left behind and at the fringes of society. She produces Your Story, a weekly segment that airs every Sunday on Citizen TV 9pm Prime Time News. Her work explores social issues and she is often tasked with explaining complex science issues in a simple way, putting a human face to every story.

For her work, she has received the 2018 Upstream Oil and Gas Journalist of the Year Award and the Zimeo 2017 Award for Climate Change and Conservation reporting. She has also been shortlisted for the UK Foreign Press 2017 Young Journalist Award and the 2015 Mohamed Amin Africa Media Award People's Choice Award. 

An avid reader, Dorcas is passionate about African literature and how the oral and written tradition is central even to news writing. Her vision is clearly spelled out as "disturbing the comfortable; comforting the disturbed."

Her winning report, "The App and The Cut," ran on KTN News in June 2018. In this 25-minute feature, Wangira traveled to communities where girls are forced to undergo the illegal procedure. She tells their stories of helplessness alongside the tale of five high school girls who invented an app to help girls facing the surgery seek help and find rescue centers.