Evgeniy Maloletka, Vasilisa Stepanenko & Mstyslav Chernov
Freelance Photojournalist, Freelance Video Producer, Visual Journalist, Ukraine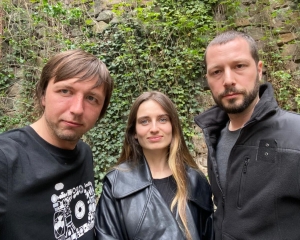 Evgeniy Maloletka, Vasilisa Stepanenko and Mstyslav Chernov are the winners of the 2022 ICFJ Knight International Journalism Award.

A trio of Ukrainian journalists endured Russian bombs, spotty internet and sparse food supplies to bring the world vivid images of Russia's siege of Mariupol, from hurriedly dug mass graves to a pregnant woman carried from a maternity hospital after a bombing. During 20 days in Mariupol, the trio provided stark and disturbing visual evidence of the devastation and human suffering that the Kremlin sought to deny.
For their brave coverage, the Associated Press team was chosen to receive the 2022 Knight International Journalism Award presented by the International Center for Journalists.

The team members included a veteran visual journalist who has traveled the globe, a prominent freelance photojournalist known for memorable images, and a young freelance video producer covering her first major conflict.

Mstyslav Chernov is an award-winning visual journalist and writer born in Eastern Ukraine and usually based in Germany. For the past nine years, he has worked on major stories in Ukraine, Iraq, Syria, Libya, Gaza, Europe and Asia as a freelance and later as a staff journalist for the Associated Press.

Chernov began working for the Associated Press in 2014, covering the Ukrainian war, then the European migration crisis. He has traveled to more than 50 countries in Europe, Asia and the Middle East.

Chernov's work ranges from current affairs to long-term projects related to conflicts, social issues and environmental crises. He works in all formats: video, photo, text and virtual reality. His photos have been published by major outlets including The New York Times, The  Washington Post, The Guardian, Independent, The Telegraph, Le Monde, Die Zeit, BBC, Forbes, Vice News, The Wall Street Journal, Deutsche Welle, and Forbes Ukraine. His videos have been aired on BBC, CNN, Al Jazeera, EuroNews, Sky News and more.

Chernov is president of the Ukrainian Association of Professional Photographers and has served as the representative of the Federation of European Photographers in Ukraine.

He is the author of a psychological novel "Dreamtime," published in January 2020, that examines societies' collective experiences with war and conflict.

Evgeniy Maloletka is a freelance photojournalist based in Kiev. He took the iconic photograph of a wounded pregnant woman carried out on a stretcher after a maternity hospital in Mariupol was bombed. The photograph was used by news organizations around the world.

Originally from the city of Berdyansk in eastern Ukraine, Maloletka studied electronics at  the Kiev Polytechnic Institute, graduating in 2010. In 2009, he started work as a staff photographer for the news agency UNIAN. Later, he worked as a freelancer and collaborated with the Associated Press, Al Jazeera and Der Spiegel, among others.

Maloletka covered the Ukrainian revolution, then moved to cover conflicts in Crimea and eastern Ukraine for various international media.

His work has been published by prominent media organizations including TIME magazine, The New York Times, The Washington Post, Der Spiegel, Newsweek, Independent, El País and The Guardian.

He spent most of his time in eastern Ukraine working on assignment for the Associated Press and contributing video content that has been aired on the BBC, Euronews, NBC News and other  television networks.

Vasilisa Stepanenko is a Ukrainian freelance journalist and video producer. Born in Kharkiv, she began working with the AP in January 2022, one month before Russia invaded the country, and traveled to Mariupol along with her AP colleagues to cover the brutal siege of the city.

Previously, Stepanenko worked as a reporter for the Kharviv Post for one year, then spent three years as a presenter for the local TV channel Simon. Her work has focused on human rights and social justice issues.

Stepanenko received a bachelor's degree in journalism from Kharkiv State Academy of Culture, graduating in 2021.

Since Mariupol, Stepanenko has worked with the AP investigations team on stories about the Mariupol theater bombing, conducting dozens of interviews with survivors. 
ICFJ Tribute to Journalists 2022