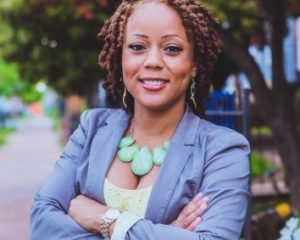 Kenya Downs was a Bringing Home the World Fellow in 2015.
Kenya Downs is a freelance reporter and digital producer, currently with National Public Radio. She also reports for the network's blog, Code Switch, analyzing race, identity and culture. Kenya has a television background, including production roles with CBS News, Al Jazeera and NewsOne.
Her career has focused on underrepresented people in media, including African-American, Afro-Latino and Caribbean-American communities. She has reported on pro-statehood protests in Puerto Rico, immigration policies toward Haitian descendants in the Dominican Republic and broke news of leaked revisions to U.S. Army grooming standards that were later ruled discriminatory against women of color by the U.S. Department of Defense.
A native of Milwaukee, Kenya holds a bachelor's degree in speech communication from Howard University and a master's degree in broadcast journalism from American University. She has interned with NBC News, ABC News and Al Jazeera. In her spare time, she is a professional samba dancer, plays soccer and runs.
Project: Kenya will travel to the Caribbean to analyze the impact of U.S. drug policies, primarily in Trinidad, St. Lucia and The Bahamas.