Vice President, Partnerships and Culture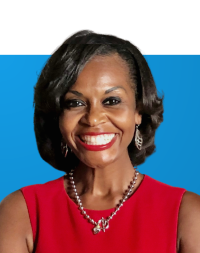 I've always had a passion for international cultures and languages. My ICFJ internship in 2002 catapulted my international career and was paramount in broadening my understanding of the media landscape globally. I'm passionate about people. My life goal is to provide equal access to opportunities, provide professional development for upward mobility and cultivate talent in the workplace. 

I oversee ICFJ's overall partnerships. As vice president of partnerships and culture, I develop, cultivate and manage new relationships with partners that align with our strategy. I work with the president on diversity, equity and inclusion and strive to create a terrific company culture for our staff, who remain the heart of the organization.
 
My background: I'm an entrepreneur with management and fundraising experience. During my 18-year ICFJ career, I've held leadership positions from senior program director to director of development. I've designed journalism programs in the U.S. and Latin America on issues ranging from immigration to freedom of expression to community radio. I've organized a major international conference in Sweden that brought together 55 media training organizations from 32 countries.

I have a master's degree in Spanish and Latin American studies from The American University and a bachelor's degree in journalism from Louisiana State University. I hold a PMP® certificate in project management. I have been a panelist for the U.S. News & World Report on topics related to the Latinx community. I received the Daily Record newspaper's VIP and Leading Women Awards, a "Women on the Move Award" recognition from Maryland's governor and several community service awards. I am fluent in Spanish. 

Ask me about: Entrepreneurship, diversity, and mothering during the pandemic

My pronouns: She/her

Contact me: lfeatherstone@icfj.org and on LinkedIn