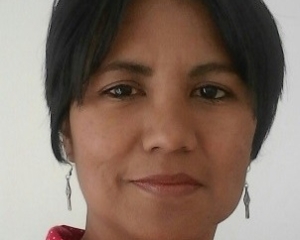 Lucy Calderón Pineda was a 2017 Professional Fellow from Latin America with ICFJ. 
Country: Guatemala, Central America

Organization and Position: I am the founder, reporter, photographer and editor of EcocienciaGT. It is a website where I publish stories about science, the environment and health.

Favorite digital tool and why: Skype. It allows you to interview people who live in other countries; you can "meet" your interviewers; it is free and it helps you save time.

Project Proposal: Learning digital tools to improve the multimedia coverage and production of successful stories on climate change and the environment to develop EcocienciaGT into a viable platform for publishing eco-science topics.

Proudest Professional Accomplishment: Promoting eco-science topics within Guatemala and around the region which has allowed me to experience being selected to travel through the Arctic Ocean to report about the impacts of climate change in that region; as well as having received a journalistic award to the "Best Latin American Story on Adaptation to Climate Change" for a multimedia story published in EcocienciaGT, and being the Vice-President of the World Federation of Science Journalists (WFSJ) among others.