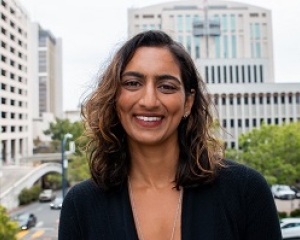 Maya Srikrishnan is a Bringing Home the World fellow in 2019. 
Maya is a reporter for Voice of San Diego. She reports on the U.S.-Mexico border, immigration issues and writes a bi-weekly newsletter about the Tijuana-San Diego border region, The Border Report. 
She previously covered housing, land use and K-12 education for Voice of San Diego. Her work has also appeared in the Los Angeles Times and ABC News. 
Maya also served as a Peace Corps Volunteer in Panama for two-and-a-half years, where she trained Panamanian teachers in teaching English, math and more. 
After speaking with many Honduran migrants who travel to the Tijuana-San Diego border as a beat reporter, Maya is looking forward to being able to report on the ground from the country to better understand why they leave. 
Project: Many of the Central American migrants who come to the U.S.-Mexico border have family or other people they already know in the country. Maya will explore the role of human networks in migration by delving into how the connections Honduran migrants have to people already in the United States – the family, friends or acquaintances who have migrated before them – factor into their decisions to migrate.
Her stories: He Made It From Honduras to the U.S., and Was Sent Right Back; Hondurans Debating Whether to Flee Weigh Family, Finances and Fear; The Other Big Reason Why so Many Hondurans Come to the U.S.; VOSD Podcast: What's Driving the Exodus From Honduras; On the Ground in Honduras, in 7 Telling Photos