2014 U.S.- Pakistan Professional Partnership in Journalism Fellow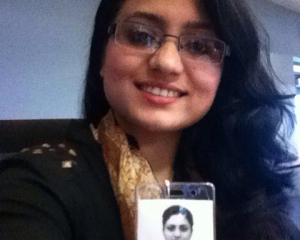 Mehwish Akram is a senior associate producer at Express News TV in Lahore, Pakistan. Akram has been working for Express News, a leading Urdu news channel, since 2007. Initially, hired as an associate producer, she now works as a senior associate producer and copy editor. Akram started her career at Express News' assignment desk, where she coordinated with reporters from all over the country to gather and develop stories. She then moved to the ticker desk and later to the copy desk, where she trained new journalists how to write news stories.
Currently, she works as a copy editor and voiceover artist, driving editorial content and ensuring that all the news content gets on air. Before joining Express, Akram had internships at ARY News Channel 2 and Pakistan Television (PTV).
While at Express News, Akram has covered topics ranging from Pakistani politics and terrorism to natural disasters including the 2010 Khyber Pakhtunkhwa floods and earthquake in Baluchistan. She has also covered international news and has written news reports on child labor and violence against women. Akram also maintains a blog and is active on social networking sites such as Pinterest, Twitter and Facebook.
Akram received her master's degree in Mass Communication from the University of the Punjab, Lahore. She is an alumnus of the Government College for Women in Gulberg, Lahore. She worked for her university's radio station, FM 104.6, where she wrote and read live news bulletins as a newscaster. Akram also completed ICFJ's multimedia training course on telling stories about youth, women and migration in South Asia.