Speaking with countless Pakistanis provided a rich, layered, and diverse understanding of not only Pakistan and its hopes and dreams, but how the United States' actions, choices, and commitments can have profound and lasting impact – for good or ill – far beyond our borders.
 – Mark Albert, 2013 fellow from the United States
This program has now ended.
The U.S.-Pakistan Professional Partnership in Journalism program builds lasting connections between Pakistani journalists and their U.S. counterparts, with the goal of raising understanding in media organizations and among their audiences about each other's countries. This program is now closed.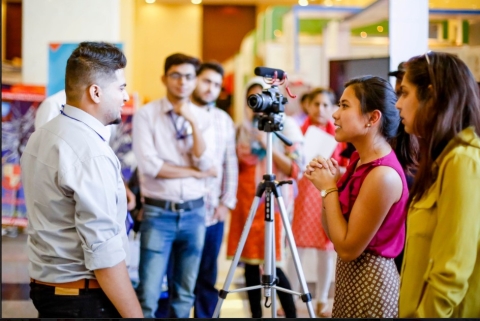 Participants on both sides report about their experience abroad, as well as the life and culture of the other country. As a result, audiences in Pakistan and the United States receive a more balanced picture of life and events in each other's countries.
Many participants reported to ICFJ that the fellowship experience changed their perspective on their profession, helped them to improve the quality of their work, and had a profound impact on them personally. Since 2011, the program has brought more than 253 Pakistani journalists to the United States and 48 U.S. journalists to Pakistan. 
Some highlights:
U.S. and Pakistani journalists report gaining a genuine understanding of each other's countries. Program participants have produced more than 190 stories during their attachments, including opinion pieces and features with an outside perspective on a pressing social or political issue in the U.S. or Pakistan.

More than 50 broadcast newsrooms and 75 print newsrooms have participated across both countries, such as The Express Tribune, Geo News, and Samaa TV in Pakistan and Chicago Tribune, Pittsburgh Post-Gazette, CNN.com, and The Huffington Post in the U.S.

Fellows have improved their reporting skills, through trainings that included a six-week, bilingual online course in social media and computer-assisted reporting for 60 Pakistani participants.

More than 100 experts and professionals, as speakers in the program, have enriched participants' understanding of U.S.-Pakistan affairs, history, politics and culture.
My attachment at CNN.com exposed me to the potential of digital media and its convergence with mainstream media. This created a new interest and I switched to media development soon after coming back. I have recently co-founded my own organization, Media Matters for Democracy, one of whose primary focus is convergence between technology and journalism. The ICFJ fellowship helped expose me to a completely different career choice.
 – Sadaf Khan, 2011 fellow from Pakistan

About the Fellowship
This program is now closed.
Print, broadcast, and digital journalists currently employed with a news organization are eligible to apply. Applicants should have between three and 10 years of professional experience. They must not have participated in a U.S. government-funded program in the past. For U.S. journalists, applicants are eligible only if their newsrooms have hosted or are committed to hosting a Pakistani fellow under this program.
Pakistani fellows spend four weeks in the United States working with their counterparts in American newsrooms. They immerse themselves in the life and realities of their U.S. colleagues and depict the reality of life in the United States. Each group receives a three-day orientation in Washington, D.C., before traveling to their host newsrooms for their three-week internships. Each group reconvenes in Washington for a debriefing at ICFJ to discuss their progress and the plans participants have for improving journalism in Pakistan. During the orientation and debriefing, ICFJ tailors a program that includes workshops and sessions on professional and ethical approaches to journalism designed to help the fellows practice their craft at a higher standard.
U.S. fellows spend two weeks in Pakistan, interacting with their Pakistani colleagues and experiencing the reality of Pakistani life and culture. Participants are chosen from among the newsrooms that host Pakistani journalists for their media internships. Each group travels to the nation's major cities. The U.S. journalists receive a two-day pre-trip orientation in Washington, D.C. to provide them background on Pakistan's most pressing challenges and a history of U.S.-Pakistan relations. While in Pakistan, the U.S. journalists meet media professionals, government officials, think tank experts and activists. They visit historic sites, schools, universities and businesses, as well as participate in cultural activities.
This multi-year program has been sponsored by the U.S. Department of State's Educational and Cultural Affairs Bureau. This program is now closed.
This program is now closed.
Program Dates:
4/30/2011 - 8/29/2018