Investigative Journalist, Al Jadeed, Lebanon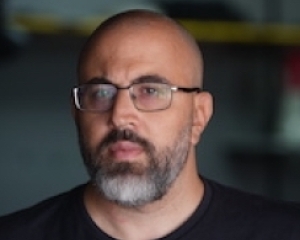 Riad Kobaissi is the winner of the 2023 ICFJ Knight International Journalism Award.
Riad Kobaissi is a dogged investigative journalist and TV presenter who bravely exposes corruption at the highest levels of government in Lebanon. For several years before the 2020 Beirut port tragedy, Kobaissi reported on corrupt customs officials – some of whom were later prosecuted – and has continued to fight for justice through his accountability journalism in the aftermath of the deadly explosion.
For this and other reporting, he is a 2023 Knight International Journalism Award winner, presented by the International Center for Journalists (ICFJ) to honor outstanding journalism that has an impact.
Kobaissi leads a team of seven journalists and a camera crew who work for the investigative unit at Al Jadeed, which he joined in 2006. For four years, he also has anchored his own weekly news show at Al Jadeed, one of Lebanon's most popular TV channels. Called "Down with Corrupt Rule," Kobaissi exposes the fortunes of elites in a country that Transparency International ranks among the 30 most corrupt in the world.
After the Aug. 4, 2020, explosion at the Port of Beirut, Kobaissi published leaked government documents revealing some of the individuals allegedly responsible for recklessly stockpiling large amounts of ammonium nitrate since 2013. Kobaissi and his investigative team helped prove that officials knew of the danger for years and failed to act, resulting in one of the largest non-nuclear explosions in history.
In an interview with the Associated Press shortly after the blast, Kobaissi said port and customs officials "are a gang, a mafia, appointed by a mafia gang that has come to office through an election process." The explosion killed at least 216 people, left hundreds of thousands of people homeless and destroyed more than 85,700 properties.
Long before the catastrophe, Kobaissi was relentlessly investigating corruption among customs controllers in Lebanon. After he broadcast footage of 16 customs officers caught on camera taking bribes, eight were prosecuted and some were imprisoned, but all kept their jobs - a sign of the depth of corruption in the system. Kobaissi also exposed how family members of politicians were using a loophole to evade taxes on luxury cars.
Kobaissi has contributed to major, cross-border investigations such as the Panama Papers, Swiss Leaks, and – most recently – a hard-hitting reporting series into Lebanon's central bank governor with the Organized Crime and Corruption Project (OCCRP) and Daraj Media.
As part of the OCCRP team, Kobaissi helped uncover shady dealings involving Riad Salame, the governor of Lebanon's Central Bank, who many blame for precipitating the country's devastating economic crisis. They revealed Salame's extensive and questionable offshore real estate investments. Among the revelations: A company tied to Salame bought a stake in his son's company, then sold it to a major Lebanese bank that Salame regulates. The reporters also uncovered that Salame's son, Nady Salame, transferred more than $6.5 million out of the country as the economy was in a free fall, while ordinary citizens could not withdraw or transfer their money because of banking restrictions.
Several European countries are investigating Riad Salame for alleged financial crimes, and have frozen $130 million in Lebanese assets in connection with the probes. In 2023, France and Germany issued arrest warrants for Salame, who has denied any wrongdoing.
Known for his defiance and boldness, Kobaissi's trailblazing and sometimes controversial style has come to epitomize a confrontational kind of Lebanese investigative journalism. In 2013, Kobaissi and three other journalists on his team were beaten by customs agents and arrested after they used a megaphone and big screen to broadcast their reporting on the previous head of customs, Chafic Merhi, outside his Beirut office. Merhi had refused to respond to interview requests.
In addition to threats of violence and arrest, Kobaissi and his fellow journalists contend with daily power outages and a shortage of basic goods like medicine, water and fuel. Following the collapse of the Lebanese pound, three-quarters of the country is in poverty.
Kobaissi grew up in a middle-class family in Lebanon and has one brother. He graduated with a bachelor's degree in journalism from the Lebanese American University in 2003 and later earned a master's degree in international affairs from the same institution. Kobaissi started working at the Lebanese newspaper, As-Safir, as a student, serving as the paper's international page editor after college, before moving to Al Jadeed in 2006.
Kobaissi is a two-time winner of the Arab Reporters for Investigative Journalism (ARIJ) Award and a recipient of the Thomson Foundation's Inquirer Award.
ICFJ Tribute to Journalists 2023