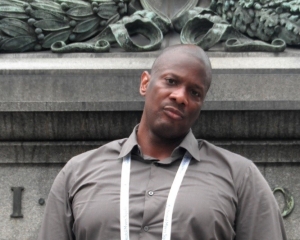 Rod McCullom was a Bringing Home the World Fellow in 2014.
Rod McCullom reports on politics, race, human rights and global health with a focus on HIV/AIDS. He has written and produced for ABC News, NBC Chicago, ABC New York City, Scientific American, The Atlantic, Ebony, Poz and others. He has received global health fellowships to report from Ethiopia, Spain and Zambia. Rod is also a contributor to the anthologies For Colored Boys Who Have Considered Suicide When The Rainbow Is Still Not Enough and Obama and the Gays: A Political Marriage. He has been nominated for four GLAAD Media Awards and won in 2013. Knight Science Journalism at the Massachusetts Institute of Technology awarded him a science journalism boot camp fellowship in March 2014.
Project Description: Rod will attempt to answer the question of whether Kenya can lead Africa forward on gay rights. The East African nation has experienced some incremental advances which offer much promise—such as including gay men in its national HIV strategy, a proposal to decriminalize anti-gay legislation and the continent's first openly gay political candidate outside of South Africa. But the calls for tolerance have also been greeted with anti-gay violence and political rhetoric.