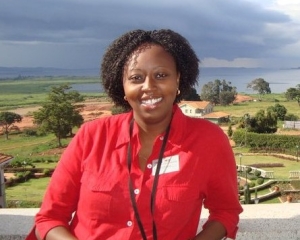 2019 ICFJ Knight International Journalism Award Winner Rose Wangui is a Kenyan television reporter who covers tough or taboo subjects that few other journalists dare to touch. Her in-depth features cast light into dark corners of society, tackling topics such as sexual bondage of young girls, brutality against women who leave home for jobs and return in a box, and squalid school conditions where children don't have a desk, a pencil or a chair.
 
Since 2008, Wangui has been a features reporter for NTV, the television arm of the Nairobi-based Nation Media Group. Her stories have sparked national debates about subjects that had gotten little or no attention and spurred improvements in the conditions she brought to light.
In 2013, Wangui produced a powerful documentary titled "Beads of Bondage" that exposed a practice called "beading" in remote villages of the Samburu tribe. Under this practice, grown men adorn girls as young as 10 with necklaces of colorful beads that allow them to claim the girls as sexual partners for years without marriage. If pregnancy results the girls are subjected to a crude and painful form of abortion performed by women in their village. The story revealed the helplessness of the girls and their mothers under this system, in which the arrangements were struck by male relatives.
 
Last year, Wangui's two-part series "Slavery in the Gulf," focused on the tens of thousands of Kenyan women who travel to the Persian Gulf states to work mainly as domestics servants. Breadwinners for their families, the women often faced violence, exploitation and abuse. Wangui told the heart-wrenching story of four families whose daughters died in mysterious circumstances in Saudi Arabia. The relatives were put through misery and expense as they waited months for the bodies to be returned and were then forced to pay the cost of bringing their daughters home.
 
After the Samburu beading story was aired, funds were raised to build a shelter for young victims.  After another feature, "Schools of Misery," exposed grim school conditions for children in a southern Kenya county, General Motors donated more than 1,200 lap desks to six underprivileged schools in Kilifi County. In 2011, Kenya's parliament banned female genital mutilation after a series of stories by Wangui raised public awareness about its harmful effects.
Wangui studied journalism at the Kenya Institute of Mass Communication and later earned a master's in international journalism at Cardiff University in Wales.