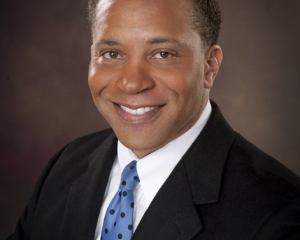 Russell Motley teaches broadcast journalism at Florida Memorial University (FMU) in Miami Gardens, FL. He joined FMU in 2010 following a 20-year career as a local TV news anchor and reporter.
Prior to joining FMU, Motley served as the primary anchor for ABC 27 News in Tallahassee, Fla. In 2006, he joined CBS 47 News in Jacksonville, FL, as a reporter and 5:30 p.m. news anchor. Motley also worked in Madison, WI, and Tulsa, OK, where he covered his first major breaking news story: the Oklahoma City bombing.
Motley earned a Bachelor's degree in broadcast journalism from the University of Miami. He earned a Master's in communications from Florida A&M University (FAMU). While at FAMU, he researched how African Americans have been portrayed throughout the history of Super Bowl commercials.
While in graduate school, Motley also conducted extensive research on movie pioneer Richard Norman, a white filmmaker in the 1920s who produced silent race films in Jacksonville, FL. Unlike most commercial films released in the 1920s, Norman's films (e.g., The Flying Ace, Black Gold) featured positive portrayals of blacks as pilots, educators, lawyers and cowboys.
While at FAMU, also Motley produced a documentary, traveling to South America to film a medical mission in the most remote, pristine areas of Guyana. Motley served as writer, photographer, and editor on the project.
Motley serves on the Board of Directors for the South Florida Black Journalists Association. He is a mentor with Big Brothers/Big Sisters of Greater Miami.