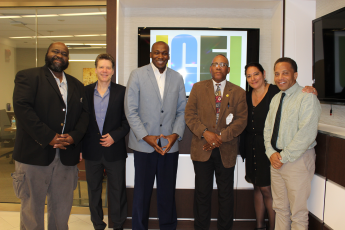 Building on the success of the 2014 program, ICFJ will host a new round of Back in the Newsroom Fellowships in 2015. In its first year, the program placed five journalism professors from historically black colleges and universities (HBCUs) in cutting-edge newsrooms for the summer. This gave the fellows first-hand exposure to the latest thinking on content creation and delivery – information and skills they are using to revise their curricula and teaching methods to help students get internships and jobs.
The ultimate goal: to improve newsroom diversity. This year, in addition to recruiting journalism professors from HBCUs for the 10-week fellowship program, ICFJ will include faculty from schools with large Latino student bodies.
The 2015 fellowships will start on May 27, in Washington, D.C. with a two-day orientation that will prepare them for their professional internships. They will spend nine weeks – from May 29 to July 29 – in host newsrooms, focusing on multimedia and multi-platform reporting, data journalism, social media and other ways media now engage audiences.
The fellows will update their digital skills, improving their understanding of what students and young journalists need to operate in cutting-edge newsrooms. They also will forge pipelines with their media hosts for promising students. On July 30-31, the fellows will return to Washington to discuss how they will revamp their curricula, redefine their approach to teaching, and build strong partnerships with their host newsrooms. 
Program Dates:
5/26/2015 - 7/30/2015
Contact Info
Elisa Tinsley
Deputy Vice President, Programs
etinsley@icfj.org
Cassandra Balfour
Program Assistant
cbalfour@icfj.org