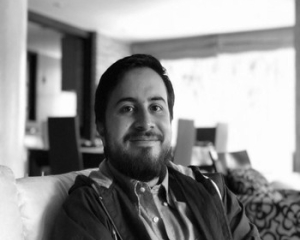 Sebastián Payán is a 2019 Professional Fellow from Latin America with ICFJ. 
Sebastián majored in literature with an emphasis on journalism, theater studies and digital media. He has worked in the digital magazine Cerosetenta for three years as a reporter. 
Last year, he founded 070 Podcasts, a podcast network where he edits and produces eight shows including Womansplaining, a show about feminism with the writer Gloria Susana Esquivel, Mirlo Podcast that tells stories of people who changed their violent environment through art and Paredro which is a podcast with literature critic Camilo Hoyos about stories behind books. 
He also is the editor of some of the newest and most innovative podcast projects in Colombia: Diana Uribe.FM, the most-heard podcast in Colombia and one of the most popular in Latin America, a show called Presunto Podcast about media criticism that became one of the most innovative and popular podcasts in 2018, and Westeros Tierra Querida, an ambitious crossover between four podcasts in Bogotá that united to talk about the last season of 'Game of Thrones' and became the second most-heard podcast in Colombia.