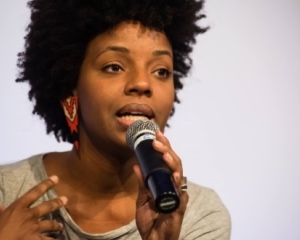 Semayat Silva e Oliveira was a 2017 Professional Fellow from Latin America with ICFJ.

Country: Brazil

Organization and Position: I am a Brazilian journalist graduated from Methodist University of São Paulo. I am a co-founder of the Communication Collective We-women of the periphery, self-managed by seven female members. The project was born three years ago with the aim of creating new ways to an alternative and inclusive media. My work includes contributing to the management of the project and producing content as reporter.

Favorite digital tool and why: The collective uses the internet as the main axis for communication, so, among my favorite tools is Wordpress, that is currently used on the website. Also, Google Docs, which makes communication, co-creation and editing very easy to a group that acts in a decentralized way and has the internet like a convergence and digital tools at its headquarters.

Project Proposal: After three years working like an independent media, supported only by grants, I feel the need to strengthen my knowledge in business management to increase the coverage and content production of our website and, also, create a strategic plan to take advantage of the team for this objective.

Proudest Professional Accomplishment: Among, my greatest achievements is the fact that the project was born and has been growing up respected by our readers and professional partners, and it also received at least three awards between 2015 and 2016.