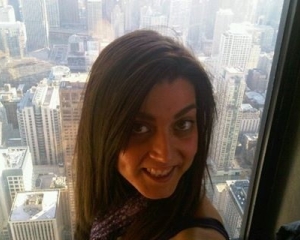 Serena Maria Daniels was a Bringing Home the World Fellow in 2014.
Serena Maria Daniels is a freelance writer living in Metro Detroit. She moved to Michigan in 2011 to work at The Detroit News, where she helped cover the city's historic bankruptcy, the 2012 presidential elections, unrest in Lansing as Michigan became a right-to-work state and the Motor City's revitalization. Serena Maria has a particular passion for social justice. During her time at The News, she wrote about the experiences of undocumented immigrants granted deferred deportation under the Obama administration's Deferred Action for Childhood Arrivals, but who were denied drivers licenses by the state of Michigan. Her series of stories helped reverse the state's stance. 
Serena Maria was a 2013 "Immigration in the Heartland" fellow at the Institute for Justice and Journalism. She has also been recognized by the Detroit chapter of the Society of Professional Journalists and the Associated Press Sports Editors for outstanding work in breaking news. Prior to working in Detroit, she was a reporter at the Chicago Tribune and The Orange County Register. Serena Maria is a graduate of California State University, Northridge, where she studied journalism and political science.
Project Description: Serena Maria will report on the legacy of the North American Free Trade Agreement in Mexico and Michigan for Bridge Magazine.