Winner of ICFJ's 2017 Excellence in International Reporting Award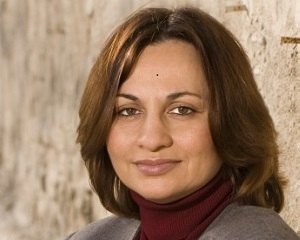 International correspondent Soraya Sarhaddi Nelson is based in Berlin and covers Central Europe for NPR. Her reports can be heard on NPR's award-winning programs including "Morning Edition" and "All Things Considered."
She was previously based in Cairo and covered the Arab World for NPR. In 2006, Nelson opened the NPR Kabul Bureau. During the 3 1/2 years that followed, she not only covered the war, but she shared stories about the ordinary lives of Afghans, from teens struggling to get an education to women running for office in the midst of upheaval.
Nelson spent 20 years as a newspaper reporter, including as Knight Ridder's Middle East Bureau Chief. While at the Los Angeles Times, she was sent on extended assignment to Iran and Afghanistan following the Sept. 11, 2001 terrorist attacks. She spent three years as an editor and reporter for Newsday and was part of the team that won the 1997 Pulitzer Prize for covering the crash of TWA Flight 800.
A graduate of the University of Maryland, Nelson speaks Farsi, Dari and German.