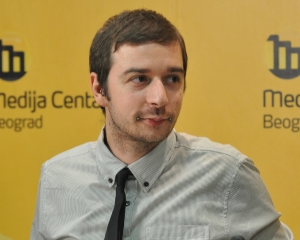 2019 Knight International Journalism Award Winner Stevan Dojčinović is truly one of the best investigative journalists anywhere. He is a founder and editor in chief of the Crime and Corruption Reporting Network (KRIK) in Belgrade, Serbia. At an increasingly dangerous time, he leads a team of courageous journalists who have turned a light on money laundering by business elites and other abuses by government officials. He is also a regional editor of the Organized Crime and Corruption Reporting Project (OCCRP), an ICFJ partner. 
His reports have exposed: 
The Serbian health minister's actions when he was a practicing doctor who helped a mobster avoid trial;
Former Belgrade Mayor Sanisi Mali's alleged use of dozens of bank accounts to launder money; and
Links between convicted drug kingpin Darko Saric and the family of Prime Minister Milo Djukanovic of Montenegro.
As a result of his probes, Dojčinović has been a frequent target of threats and vicious personal attacks by government allies. Reporters Without Borders says "Serbia has become a place where practicing journalism is neither safe nor supported by the state." He remains undeterred. 
 
A popular online site, KRIK has launched important crime-tracking tools, including a database of politicians' assets, a portal that debunks fake news, and a database of unsolved mafia assassinations in Serbia and Montenegro. Dojčinović also teaches journalists how to collect and analyze business data and property records.
 
He is the author of "Saric – How the Balkan Cartel Conquered Europe," a carefully documented look at the powerful drug lord Darko Saric, his organization and their role in international cocaine smuggling. The book documents the nexus of crime and government in the region and shows how Balkan drug gangs operate. (Video). Despite the risks, Dojčinović has met with hundreds of organized crime figures to report on their operations.
 
Prior to establishing KRIK, he served as editor-in-chief of the Center for Investigative Journalism of Serbia (CINS) for seven years.