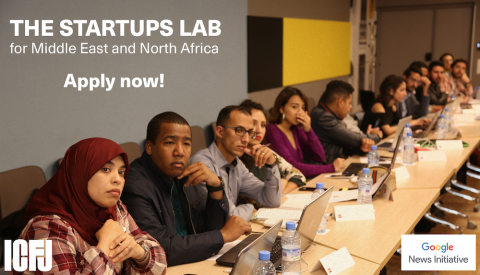 Early-stage digital news outlets in the Middle East and North Africa (MENA) working to build businesses that serve their communities for years to come have a new opportunity designed to catalyze growth.

A cohort of 16 independent news organizations in MENA will receive training, intensive coaching and funds through the Google News Initiative Startups Lab in MENA. Applications for the Startups Lab, offered by the Google News Initiative (GNI) and the International Center for Journalists (ICFJ), are now open.

Over six months, select news outlets will tackle specific business problems with support from GNI, ICFJ and leading industry experts along with customized coaching and funding to advance key business goals.

"News leaders in the MENA region face an array of challenges, from crackdowns on independent voices to limited revenue," ICFJ President Sharon Moshavi said. "The Startups Lab will equip them with the tools to build stronger businesses and grow their work serving communities with vital news and information – and the lessons learned will extend to others in MENA and beyond."

The Startups Lab is open to early stage digital news outlets who focus on public interest journalism, fill an information gap, reach underserved communities, serve a single subject community or are exploring new ways to deliver or monetize information. News organizations based in the following countries are eligible to apply: Algeria, Bahrain, Egypt, Iraq, Jordan, Kuwait, Lebanon, Libya, Mauritania, Morocco, Oman, Palestine, Qatar, Saudi Arabia, Tunisia, United Arab Emirates and Yemen. Expatriate Syrian organizations will also be considered.

"In line with the Google News Initiative's efforts to enable a thriving news ecosystem, we are proud to partner with ICFJ to support an exciting cohort of emerging digital publishers from across MENA," said Mazen Sabbagh, News Partnerships Manager in the Middle East and North Africa. "I'm really excited to see what this cohort accomplishes through participating in the GNI Startups Lab, as they build their financial sustainability to serve unmet news needs in innovative new ways."

GNI has run Startups Labs in North America, Europe, Latin America, India and Indonesia. ICFJ since 2014 has supported MENA entrepreneurs through the IJNet Arabic Mentoring Center, one of several ICFJ initiatives across the world helping news outlets develop more sustainable business models in the digital age.

The Lab will kick off with an in-person training for senior leaders in 2023. Applications are open until 5th January 2023. Interested news organizations are encouraged to apply as soon as possible.