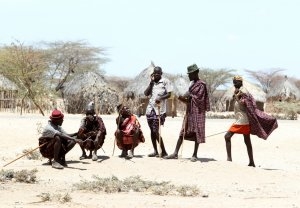 In Kenya's poor, dry Turkana region, recent discoveries of water and oil could change the lives of residents who depend on food aid for survival.
In March 2012, the country's President Mwai Kibaki announced that oil had been discovered in Turkana after exploratory drilling by an Anglo-Irish oil firm. And last year, UNESCO announced that large reserves of groundwater had been discovered in the drought-ridden area.
How much will the new resources help Kenyans, and how much of the new wealth will flow back to European investors? The answer is complex, but a team of data journalists is working to make it more clear.
Land Quest, a cross-border investigative journalism experiment which launched last week in beta, is using data to illuminate the competing financial interests in Kenya. It maps the flow of aid money from Europe to Kenya, and the flow of profits out of Kenya to Europe.
The site pulls European aid data to map the impact of land acquisition by international oil and water interests. It also shows the location and other information about development aid projects and private-sector projects in Turkana and surrounding Lake Naivasha nearby. There, transnational companies cultivate much of Europe's annual flower supply, while European-funded nonprofit organizations seek to protect water quality, defend labor rights and resettle internally displaced people. The site is powered by mapping platform JEO, created by Brazil-based ((o))ecoLab.
Land Quest is built to be easy for journalists to use. Developers created a "script that allows Google Doc spreadsheets to render directly onto map layers," says Gustavo Faleiros, who founded ((o))ecoLab as part of his ICFJ Knight International Journalism Fellow in Brazil and helped with the Land Quest project.
Read the rest of the post on IJNet.
Photo of men in Turkana courtesy of the DFID - UK Department for International Development, under a Creative Commons license. * The International Journalists' Network, IJNet, keeps professional and citizen journalists up to date on the latest media innovations, online journalism resources, training opportunities and expert advice. ICFJ produces IJNet in seven languages: Arabic, Chinese, English, Persian, Portuguese, Russian and Spanish. IJNet is supported by donors including the John S. and James L. Knight Foundation.