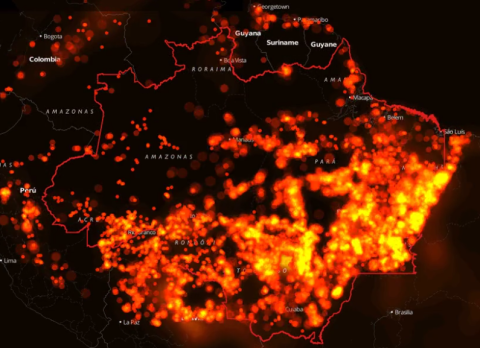 InfoAmazonia, a data visualization map created by former ICFJ Knight Fellow Gustavo Faleiros, was used in a Business Insider article to visualize the grave danger facing the Amazon rain forest region.
"While the annual rate of deforestation has slowed in recent years...another, less talked-about issue the rain forest faces, is the threat of wildfires," the story in the popular online site reads.
The article, titled "The Amazon is Burning," uses InfoAmazonia infographics to show the startling rate at which fires have threatened the region.
"A stunning data visualization from InfoAmazonia shows where forest fires have occurred in the Amazon rain forest between January 2012 and December 2014 using satellite data collected by NASA," the article says. It uses InfoAmazonia maps to illustrate the quickening pace of fire-related deforestation.
Faleiros, who is based in Brazil, specializes in environmental and data-driven journalism. He developed InfoAmazonia during his ICFJ Knight Fellowship.
Read the full Business Insider article here.