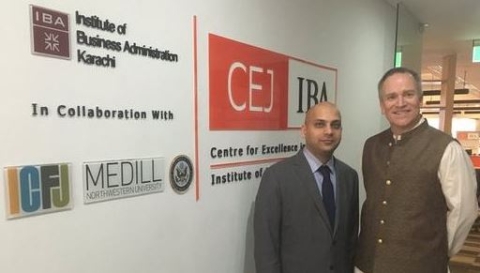 Five years ago, when the International Center for Journalists' Vice President Patrick Butler first visited Pakistan, he asked reporters and editors how his organization could be most helpful. The response was nearly unanimous: They asked for a top-quality, hands-on center for training professional journalists and journalism students.
This week, Butler attended the official launch of Pakistan's Centre for Excellence in Journalism (CEJ), a state-of-the-art facility in Karachi. ICFJ created the Centre along with the Institute of Business Administration (IBA) in Pakistan and the Medill School of Journalism at Northwestern University, backed by a $4 million grant from the U.S. Department of State. "Today, we mark the fulfillment of that request, the achievement of that goal," said Butler at the opening ceremony. "The Centre can transform the way our profession is practiced in Pakistan."
U.S. Ambassador David Hale officially launched the new facility. "A free and professional press is a cornerstone of democracy and played a crucial role in America's history," said Hale. "This Centre for Excellence in Journalism aims to help journalists gain and improve their skills so they can play their indispensable role in the public discourse of their country."
The facility takes up a floor in IBA's new Aman Tower and features a modern television studio, production control room, multimedia newsroom, edit suites, classrooms and offices.
ICFJ worked with the Medill School of Journalism at Northwestern University to design and run training courses for professional journalists over the past year. Medill professors and ICFJ trainers, working with Pakistani co-trainers, are now teaching courses on everything from investigative journalism to multimedia storytelling and documentary production. An April course on TV talk-show production will be the first to take advantage of the newly christened television studio.
Next year, CEJ will offer a master's degree program in journalism, focusing on practical, hands-on instruction. Some of the Pakistani faculty will spend the 2016-17 academic year at the Medill campus in Evanston, Ill., to earn master's degrees themselves.
Butler noted that CEJ will help Pakistani reporters stay on the cutting edge of digital innovation. He also credited Pakistani journalists for their bravery and said the CEJ will help them practice their profession more safely in one of the most dangerous countries in the world.
Hale and Butler lauded Dr. Ishrat Hussein, retiring dean and director of IBA, for his vision in pushing for the creation of CEJ and for his commitment to seeing it completed despite the obstacles.
"The Institute of Business Administration has long been at the forefront of innovation in education, and I am very pleased to add yet another component to that prestigious portfolio with the launch of the Centre for Excellence in Journalism," Ishrat said. "We expect the Centre to attract the best and brightest journalists and multimedia professionals."
Butler also credited Babar Taimoor, program director at ICFJ, who has managed the program since its inception.
Also speaking at the launch were Kamal Siddiqi, editor of the Express Tribune newspaper and chairman of CEJ's board; Craig Duff, professor of journalism at Medill (and a former ICFJ Knight International Journalism Fellow); and Christie Marie Lauder, acting director of the CEJ.