We want to produce the stars of tomorrow, who go beyond the daily drab stories and produce exciting journalism.
– Kamal Siddiqi, Director, Centre for Excellence in Journalism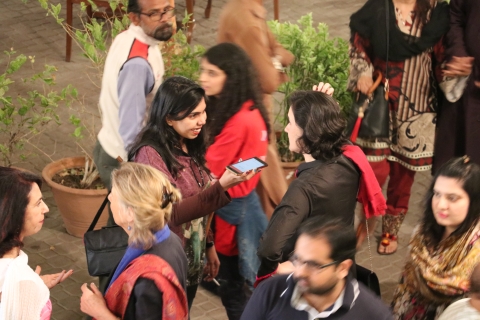 To train the next generation of Pakistani journalists, ICFJ partnered with Northwestern University's Medill School of Journalism and the Institute of Business Administration (IBA) to create the Centre for Excellence in Journalism (CEJ) in Karachi, Pakistan.
The CEJ serves as a hub for professional development, training and networking among Pakistani journalists and media professionals from all parts of the country. It also welcomes journalists from around South Asia to participate in its programs.
CEJ is equipped with a state-of-the-art television and radio studio where journalists are trained in practical production and on-air reporting skills.
Because of the CEJ:
Students and professional journalists alike are gaining the skills they need to become 21st-century, digital-age communicators.

More than 600 Pakistani professional journalists have taken intensive courses in journalism topics ranging from investigative reporting to documentary production.

Pakistan now has its first journalism degree-granting program of any kind and its first Master of Science in Journalism program.
In my seven years working as a broadcast journalist, I'd never used a camera on my own. I would depend on the cameraperson or my team. But after completing my CEJ course, I have become an independent reporter. Now I can shoot the whole report alone with a digital camera or a mobile phone.
– Imran Asghar, "Reporting for Television" course participant at CEJ
Courses for professional journalists
CEJ, launched in February 2016, has offered 24 two-week courses and numerous shorter workshops that offered practical training in contemporary journalism techniques to more than 600 professional journalists from all over Pakistan. Topics have included data journalism, documentary production, news design, business and economic journalism, broadcast production and writing, and feature writing.
The Centre is serving a truly national network of journalists. A majority of course participants have come from cities outside Karachi, including Lahore, Islamabad, Quetta, Peshawar, and smaller cities and towns. CEJ is also reaching journalists for regional-language media through three-day training workshops in smaller urban areas.
For more information on future courses, please contact CEJ Assistant Program Manager Hira Siddiqui at cej@iba.edu.pk.  
Our aim is to prepare students for key positions in the age of digital news, which is limitless, relentless, and constantly evolving.
– Hammad Sarfraz, Lecturer, Master of Science in Journalism program
Master of Science in Journalism degree
The 18-month master's program at IBA welcomed its first class of 21 journalism students in January 2018. The program is set apart from its competitors, which are typically focused on communications theory, due to its unique design to deliver cutting-edge, practical reporting skills to the next generation of Pakistani journalists.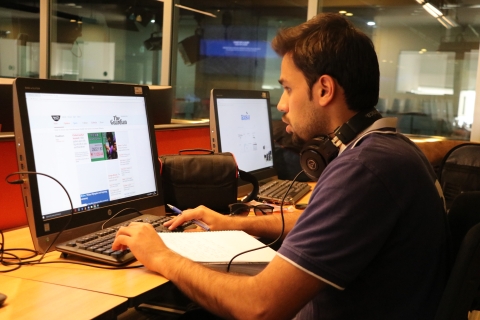 The 11 women and 10 men in the inaugural master's degree class come from a variety of fields, from journalism and communications to business, public administration, the arts and agriculture. One-third come from outside Karachi, allowing students from all over the country to learn from and interact with each other and build a national network that will empower their work once they graduate.
To ensure that no admitted student is unable to attend due to a lack of financial resources, IBA and CEJ help secure funding and scholarship opportunities for qualified students. Among the first MSJ class, 60 percent of entering students received a full scholarship.
Upon graduation, the students will be equipped to work in all media – broadcast, radio, digital and print. Students will gain a wide array of skills, including basic coding, data mining, photography, video and audio production and editing, podcasting, news writing and web production. They have the opportunity to learn from professional journalists in the Centre's television and radio studios.
The ambitious curriculum also includes courses or modules on government, foreign policy, local environmental and developmental issues, Pakistani minority communities, domestic extremism and reporter safety. Students will apply what they learn by working in professional newsrooms.
For more information on the master's program, please contact CEJ staff at cej@iba.edu.pk.
In partnership with:

​
Program Dates:
9/30/2013 - 12/31/2017