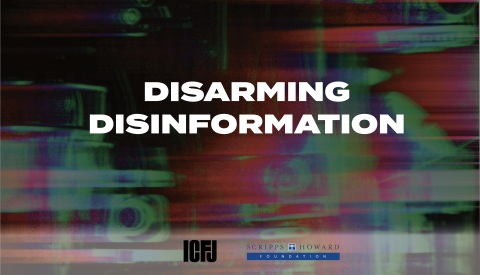 An Editor & Publisher article recently featured ICFJ's efforts to combat disinformation, through the Disarming Disinformation initiative. ICFJ President Sharon Moshavi discussed the various aspects of the program and highlighted the spread of disinformation on a global scale.

"Disinformation has no borders," she said. "I think that this is one thing that we, in the U.S., need to keep in mind — that local news exists in a global context. There are big global issues affecting our local audiences, and I think how we respond to that is really important."

Disarming Disinformation is run by ICFJ with lead funding from the Scripps Howard Fund. The three-year project empowers journalists and journalism students to fight disinformation.

Through an emphasis on investigative journalism, community engagement, and research, the program aims to help newsrooms implement strategies to combat disinformation. Moshavi expressed the need for journalists to engage with partners and expand their reach.

"Journalism is an important defense against disinformation, and it has to not only go on the defense, it has to go on the offense," she said. "The flip side to disinformation is quality journalism. There has to be good news to fill those gaps, not just to combat disinformation but to fill that truth gap."

Read the full story at EditorandPublisher.com.