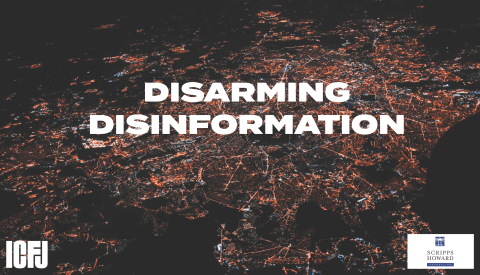 Disinformation is a rampant problem and can have terrible, even deadly, consequences. It's time to turn the page, to support and amplify innovative strategies that can combat dangerous falsehoods. It's time to identify and reveal the networks behind viral pieces of false content, and to make sure the next generation is prepared to separate fact from fiction.

Disarming Disinformation, ICFJ's largest program addressing the information disorder we live in, is a three-year global program supported by the Scripps Howard Foundation. Between 2022 and 2025, the program will invest $3.8 million on solutions that effectively push back against disinformation.

Disarming Disinformation is designed to engage journalists and journalism students, as well as teachers, researchers and social media influencers. It has six verticals of work that will reach hundreds of thousands of people worldwide.

How the program works

Disarming Disinformation has six verticals designed to have high impact. Each one of these verticals has a list of activities to offer –  ranging from workshops to toolkits, besides dozens of small and large grants. 
Vertical

Events

Who can participate?

Cross-border reporting
 
Webinars, investigathons, and grants
Journalists, journalism students
Antiviral disinformation actions
 
Webinars, large and small grants
Digital influencers, social media platforms

Action-oriented research

Case studies

Researchers, academics

Integrating solutions-based practice into newsrooms

Research application and grants

Newsroom executives, journalists, academics, IT specialists and more

Resources

Case studies, how-to-guides and curriculum

All citizens interested in fighting mis/disinformation

Training of the trainers

Online courses, in- person training and grants

Journalists, influencers, researchers, academics and other trainers
Where and when?

Disarming Disinformation will take place in the following regions, before the end of June 2025. Each region will have its own schedule and agenda – to be announced soon.
Africa
Eastern Europe/Former Soviet Union
Latin America/Caribbean 
MENA
South Asia
North America

Who can apply?

This program was designed to cover different groups of people and interests in different regions and languages. More details about each event will be provided on this page in the coming weeks. Stay tuned for more.
Program Dates:
9/1/2022 - 6/30/2025