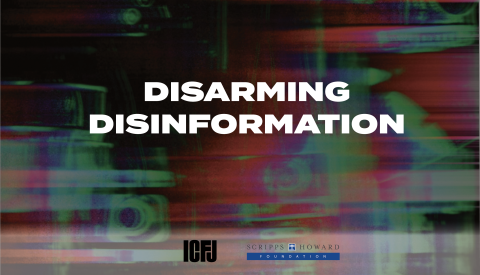 Disinformation is a rampant problem and can have terrible, even deadly, consequences. It's time to turn the page, to support and amplify innovative strategies that can combat dangerous falsehoods. It's time to identify and reveal the networks behind viral pieces of false content, and to make sure the next generation is prepared to separate fact from fiction.

Disarming Disinformation is ICFJ's largest program addressing the information disorder we live in. It is a three-year global program supported by the Scripps Howard Foundation, an affiliate organization of the Scripps Howard Fund. Between 2022 and 2025, the program will invest $3.8 million on solutions that effectively push back against disinformation.
The program has a multidisciplinary approach, designed to engage journalists and journalism students but also teachers, researchers, social media strategists, digital influencers, developers and others who have been fighting mis/disinformation across the globe. It does so through many initiatives, such as in-person and online trainings, grants, project mentorship, in-depth research, newsroom embedment and a slew of resources, such as how-to guides.  

Disarming Disinformation is streamlined into three tracks: Investigative, Capacity Building and Research.
Program Dates:
9/1/2022 - 6/30/2025