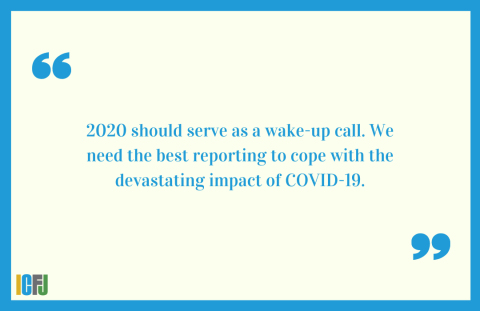 This story was first published on niemanlab.org.
The biggest story of 2020 — probably the biggest story of our lifetimes — was a global one, and covering it effectively required global collaboration among journalists and news organizations.
Media in the United States needed to have eyes and ears in China, Italy, Iran, and other hot spots in order to know what was coming. They needed reporting from all over — from Taiwan and Senegal to Brazil and the U.K. — to know which strategies were succeeding and which ones were failing. And as the race for a vaccine heated up, they needed to tell their audiences what was happening in Asia and Europe, and how progress there would impact the health of Americans.
In 2021, we have a chance to learn from a crisis we were largely unprepared to cover. That means ensuring that we have journalists who are well trained in health and science, but also ensuring that we are networking journalists across the world to share information and reporting. Beyond reporting, we need to share tactics for combating the disinformation that spreads across borders, and strategies for financial sustainability in a worsening economic crisis.
Many organizations have launched efforts to increase global collaboration as the need has become urgent. Investigative journalism groups are joining forces as never before to expose pandemic-related abuses. African women journalists are collaborating across borders on data-driven stories on how Covid-19 is affecting the most vulnerable. Others are teaming up to cover pressing global issues such as climate change and cross-border corruption.
We've focused on a global response at my organization, the International Center for Journalists. Early in 2020, we launched the Global Health Crisis Reporting initiative, including an English-language Facebook forum that brings journalists together with everyone from epidemiologists to data journalism experts. We then added fora in four more languages: Arabic, French, Portuguese, and Spanish. We now have more than 10,000 journalists participating across all five groups, and they're collaborating across borders to boot.
Some examples: One writer found experts in Africa for an article in The New Yorker on what we can learn from that continent's experience fighting pandemics. Latin American journalists got advice from those in Spain about the stories they needed to write to prepare their audiences for the coming disaster. Arab journalists joined together to produce stories about how different countries were dealing with the spread of the disease.
Investigative journalism groups are teaming up in the Covid-19 era. The Organized Crime and Corruption Reporting Project (OCCRP) brought together investigative journalists from 37 countries to examine Covid-related spending contracts across Europe — and to uncover massive disparities in the amounts paid, along with which companies got rich as a result.
At the same time, the recently launched Africa Women's Journalism Project is bringing together journalists and data analysts in five African countries (Ghana, Kenya, Nigeria, Tanzania, and Uganda) to produce data-driven coverage on topics such as Covid-19's impact on health and family finances.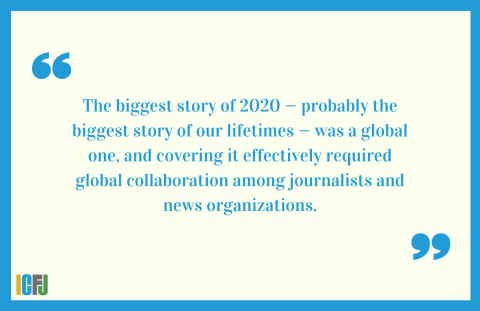 These cross-border reporting projects aren't limited to the pandemic. The Pulitzer Center on Crisis Reporting recently announced the Rainforest Investigations Network, bringing together reporters around the world to dig into the intersection of climate change, corruption, and governance in the rainforests of South America, Africa, and Asia. And the International Consortium of Investigative Journalists brings together top reporters from about 100 countries to cover cross-border corruption, including its best-known collaboration, the Pulitzer Prize-winning Panama Papers project.
U.S. media organizations have often been reluctant to join these efforts. Large ones don't believe they need any help and might not trust reporting that isn't produced by their own staffers or long-time contributors. Smaller ones don't believe they need anything more than wire service reports from outside the places where their audiences live.
But 2020 should serve as a wake-up call. We need the best reporting to cope with the devastating impact of Covid-19. We need to learn what's working and what's not in the effort to provide trustworthy information that helps to stem this killer disease. Now is the time to forge the partnerships that will prepare us to cover the biggest stories of 2021 — and beyond.