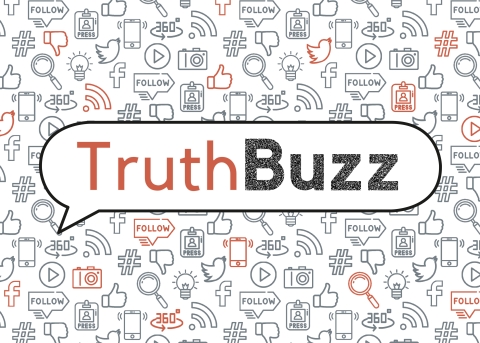 With the support of Craig Newmark Philanthropies, the International Center for Journalists (ICFJ) is expanding its TruthBuzz initiative, designed to find new ways to help verified facts reach the widest possible audience. The initial TruthBuzz contest uncovered exciting and effective methods for countering disinformation and sharing instantly understandable fact-checking.
Now, TruthBuzz 2.0 will bring these and other innovative fact-checking techniques to newsrooms in five of the most populous nations: Brazil, India, Indonesia, Nigeria and the United States. TruthBuzz will embed experts in these outlets to help reporters adopt compelling storytelling methods that improve the reach and impact of fact-checking. The goal is to fight misleading information and build trust with audiences. These TruthBuzz Fellows will collaborate on projects and share novel approaches.
"Now that we've discovered some key ways to help the truth go viral, we want to spread the word to newsrooms far and wide," said ICFJ President Joyce Barnathan. "We aim to have news organizations share fact-checked information in a compelling way."
Adds Craig Newmark, founder of craigslist and Craig Newmark Philanthropies: "People of good will want news they can trust, and that requires global truth-telling and fact-checking. ICFJ is taking the next step toward making that a reality."
ICFJ will recruit and train five media professionals who will be embedded for up to six months in several news outlets in each country. The TruthBuzz Fellowships are modeled after ICFJ's flagship program, the Knight Fellowships, which have a strong track record of driving sustainable change in newsrooms. The new Fellows will work closely with seasoned ICFJ Knight Fellows around the world.
ICFJ will also collaborate on TruthBuzz with First Draft, a project of the Shorenstein Center at the Harvard Kennedy School of Government. First Draft will provide additional training in target countries on how to verify information and debunk falsehoods. TruthBuzz Fellows will develop case studies to help news outlets in other countries carry out the same mission.
Interested in being a TruthBuzz Fellow? Learn more and apply. ICFJ will consider candidates on a rolling basis, that means that we will start conducting interviews as soon as appropriate candidates are identified. We may close applications if we select a Fellow before the deadline (May 20), so please submit applications as soon as possible.
---
About ICFJ
ICFJ empowers journalists to deliver trustworthy news essential for vibrant societies. Working at the nexus of journalism and technology, we build the expertise and storytelling skills of reporters worldwide. We promote high-impact journalism that leads to better lives.
About Craig Newmark Philanthropies
In 2016, craigslist founder Craig Newmark created Craig Newmark Philanthropies to support and connect nonprofit communities and drive powerful civic engagement. Craig Newmark Philanthropies works to advance the people and grassroots organizations that are "getting stuff done" in the areas of trustworthy journalism, voting rights, women in tech, and veterans and military families.