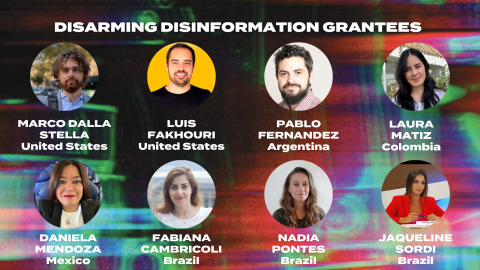 A cadre of journalists trained to investigate the origins of false information in the Americas are exposing the inner workings of disinformation campaigns across the region, with several cross-border investigations published so far – including one for the Associated Press republished over 100 times.

Seven teams, made up of 22 media outlets hailing from 10 countries, published the investigations with training, funding and expert mentorship, through the Disarming Disinformation program run by the International Center for Journalists (ICFJ).

The stories uncover disinformation targeting migrants at the U.S.-Mexico border, the role U.S.-based organizations play in spreading gender disinformation in Latin America, the financing of climate change denialism in Brazil, and more. 

The article for the Associated Press, from a reporting team led by Daniela Mendoza of Mexico's Verificado MX, has been picked up by more than 100 outlets, including El País and The Washington Post. The investigation looks into how fake recruiters, human traffickers, "legal advisers," influencers and "migration coaches" create fake content aimed at those hoping to cross the U.S.-Mexico border. Money lost to these scams, the investigation found, ranges up to  $20,000 per person.

The reporting teams received grant funding of up to $10,000 each and expert mentorship after winning the Disarming Disinformation "Investigathon" in Austin, Texas, in April.

"The program provided us with tools to tell complex stories and follow the path of financing disinformation," said Mendoza, co-founder and director of Verificado MX. "Additionally, it provided us with guidelines to organize a multidisciplinary research team that allowed us to cover a phenomenon as complex as migration."

Disarming Disinformation, a three-year project to empower journalists and journalism students to fight disinformation, is run by ICFJ with lead funding from the Scripps Howard Fund. The Serrapilheira Institute is also supporting reporting projects investigating the money and people behind scientific disinformation in Brazil. 

"The investigations published during this first year of the Disarming Disinformation program are a huge contribution to identifying and better understanding the actors undermining confidence in the democratic system and in scientific evidence," said Laura Zommer, an ICFJ Knight Fellow, co-founder of Factchequeado and the general director of Chequeado, who served as a mentor for some of the reporting teams. "This is a unique initiative because it is the first global, collaborative, cross-border effort focused on finding out who is funding disinformation."

Other investigations published to date include: 

Next year, Disarming Disinformation will support additional cross-border investigations into disinformation, both in the Americas and beyond.

Note: This story was updated July 27, 2023.