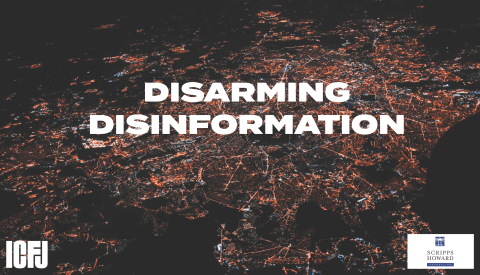 Journalists, media researchers and university students will join forces to fight rampant and often deadly disinformation in a new three-year global program led by the International Center for Journalists (ICFJ) with the support of the Scripps Howard Foundation.

The $3.8 million initiative called Disarming Disinformation will help journalists produce investigative reporting to identify and debunk falsehoods and to ferret out the shadow figures behind disinformation campaigns. Journalists in the program will pioneer innovative techniques to reach audiences targeted by these campaigns, as an antidote to the contaminated information environment that threatens democracies everywhere.

"From Russia's war on Ukraine to the global COVID-19 pandemic to assaults on democracy in the United States and elsewhere, we've seen how these lies can have fatal results," said ICFJ President Sharon Moshavi. "Every journalist in the world must become a disinformation reporter, and Disarming Disinformation will help address that urgent need."

The program will be run under the auspices of ICFJ's Pamela Howard Forum on Global Crisis Reporting, an award-winning initiative that provides more than 13,000 journalists with training, grants and other support to better cover the most urgent crises of the day. 

"Journalists face an uphill battle with inaccurate and false information spreading at an alarming rate," said Liz Carter, president and CEO of the Scripps Howard Fund and Scripps Howard Foundation. "This approach will not only help journalists detect misinformation and disinformation but will also expose them to practical solutions to combat this issue, which is undermining trust in journalism across the globe."  

Through the Disarming Disinformation program:
Thousands of journalists and journalism students will receive training on topics such as fact-checking, verification and digital security.

Reporting grants will spur cross-border investigative projects.

Journalists and newsrooms will develop new techniques for audience engagement to reach those most likely to believe disinformation.

An ICFJ Knight Fellow with expertise in fighting disinformation will lead a train-the-trainers component to multiply the program's impact.
The program also includes a robust, action-oriented research component designed to surface adaptable solutions and recommendations for journalists and media outlets. ICFJ will promote these solutions through its global network and on the International Journalists' Network (IJNet) site, which reaches nearly two million unique users annually in eight languages.

ICFJ will partner with the Howard Centers for Investigative Journalism at Arizona State University and the University of Maryland on key components of the project.

In its final year, ICFJ will amplify all the initiative's learnings, partnering with selected local newsrooms in the United States and other key countries to integrate daily practices that routinely expose and debunk widespread falsehoods.

About ICFJ
The International Center for Journalists (ICFJ) empowers a global network of journalists to produce news reports that lead to better governments, stronger economies, more vibrant societies and healthier lives. We serve our community by providing training, mentoring, fellowships and financial support in investigative journalism, critical-issues reporting, media innovation and financial sustainability, as well as through cutting-edge research and resources. Learn more at icfj.org.

About the Scripps Howard Fund
The  Scripps Howard Fund supports philanthropic causes important to The E.W. Scripps Company (NASDAQ: SSP) and the communities it serves, with a special emphasis on journalism education, excellence in journalism and childhood literacy. At the crossroads of the classroom and the newsroom, the Fund is a leader in supporting journalism through scholarships, internships, minority recruitment and development and First Amendment causes. The Scripps Howard Foundation, an affiliated organization with the Scripps Howard Fund, supports Scripps' charitable efforts through its endowment and major donations.

Media Contacts:
Erin Stock, ICFJ, 202-349-7636, estock@icfj.org 
Molly Miossi, The E.W. Scripps Company, 513-977-3713, molly.miossi@scripps.com