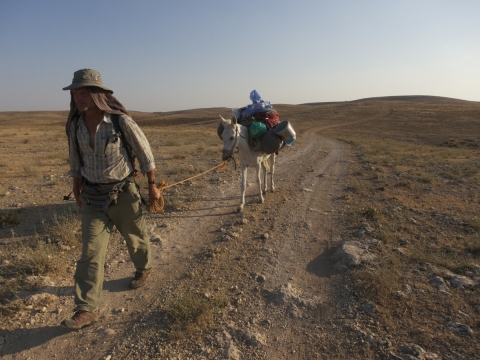 Former ICFJ Knight Fellow Paul Salopek is quite literally on the journey of a lifetime: he is walking on foot for 30,000 miles, from Africa to South America, to recreate the migration of the first humans. It will take Salopek seven years to complete this reporting project, the Out of Eden walk.
Salopek's journey mirrors that of our ancestors, who wandered out of the prehistoric African Eden, and migrated across the Middle East and Asia, before crossing into North America.
Along the way, the Pulitzer Prize-winning journalist is documenting his journey for www.outofedenwalk.com and National Geographic, through stories, maps, photographs and more.
Before he began this reporting project, Salopek was a Knight International Journalism Fellow with the International Center for Journalists (ICFJ). He traveled to Bangladesh in 1996 for his fellowship, where he conducted workshops on environmental journalism and then to Nepal to survey the state of media in that country.
He says his experience as an ICFJ Knight Fellow greatly impacted his career. "I had worked overseas before, reporting as a freelancer," Salopek said. "But this experience cemented my desire to be a foreign correspondent."
He also gained a better understanding of journalism as a whole during his fellowship. "As strange at it sounds, I learned the basic mechanics of journalism for the first time," Salopek said. "I've never taken a journalism class in my life (I'm a biologist by education). So I had to study the curriculums supplied by ICFJ even harder than the students did."
And more than anything, he began to understand "the difficulties our colleagues in the developing world face in doing their jobs," including "lousy or no pay, intimidation by powerful business interests and politicians, threats of imprisonment under thuggish secrecy acts and the logistical hurdles of merely reporting a story when you're almost penniless in vast, bleeding mega-cities."
In his first entry for National Geographic to mark the start of his trip, Salopek introduced his journey as an "inescapable biological reality."
"We're built to walk. We've been wired by natural selection to absorb meaning from our days at the loose-limbed gait of three miles an hour," he writes. "To watch. To listen. To glance over our shoulders, seeking older compass bearings. Those first bands of Homo sapiens who blazed the trail to our becoming a planetary species...have valuable lessons to impart. They were, after all, consummate survivors. This is the premise of the Out of Eden walk."
For Salopek, the physical demand is only one element of his journey. "It's about narrative. It's only incidentally about walking," he said. "The walk...arose from the question: What is the most important thing worth writing about today? I decided based on my traces that it was identity and migration – human restlessness."
He says one purpose of the walk is to slow things down and discover the stories that aren't seen in the news. "Because of my science background, I hit on the idea of recreating the first human diaspora out of Africa and using that journey as the framework for immersive journalism," he said. "It's slow journalism made literally manifest."
Along the way, Salopek has chronicled the lives of the people you won't see in the news. A pistachio farmer in southeastern Turkey who carries a gun to protect his crops from thieves the locals have deemed the "pistachio mafia." The lost souls of Muslim pilgrims who traveled toward Mecca during the fall of the Ottoman Empire and are remembered only by inscriptions they carved in what is now known as Jordan's Valley of the Moon. A group of veiled women in Saudi Arabia who drive pickup trucks despite their country's ban on female drivers. Those are the stories we miss in our instant-gratification, breaking news culture.
And together, they create a greater story. "Being on foot for seven years...strings all the stories together into a linear storyline, a cohesive vision, that is far bigger than anything I've attempted before," he said. "It really is the story of humanity."
The former Knight Fellow is two years in to his seven-year walk. He started his journey in Bouri, Ethiopia, a "Rift Valley fossil site containing what are probably the oldest remains of anatomically modern humans know to science." From there, he walked through Ethiopia, Djibouti, Saudi Arabia, Jordan, the West Bank, Israel, Cyprus and Turkey. He will continue East along the Old Silk Road to China, then North into Siberia, and across the North Pacific by ship to Alaska before walking down the western flank of the Americas to Chile by around 2020.
Salopek's Out of Eden walk has garnered national and international attention. It has been featured by major news publications including NPR, the Washington Post, The New Yorker and the BBC.
The Knight Foundation recently awarded National Geographic a $950,000 grant for the Out of Eden walk to "experiment with new digital storytelling techniques and share lessons to help advance the field of journalism."
To learn more about this reporting project, visit the Out of Eden walk website or National Geographic's "Out of Eden Walk: Dispatches from the Field from Paul Salopek." View his journey here. 
The main sponsors of the Out of Eden walk are the John S. and James L. Knight Foundation and National Geographic.