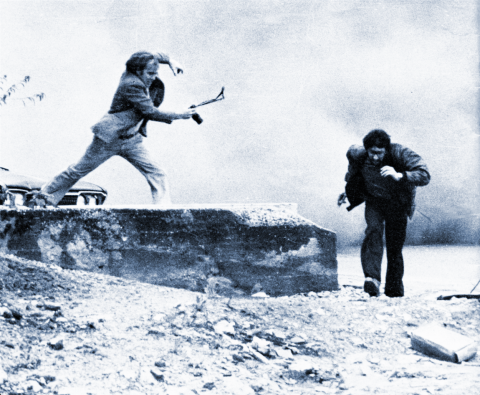 George Atwell Krimsky of Washington, Connecticut, died on January 20, 2017. He was 75 years old.
A journalist and author, Mr. Krimsky retired in 2012 but continued to lecture and write from his home, where he lived with his wife of 46 years, Paula, and their dog, Dixie.
Paula, their two children and six grandchildren were the focus of his devotion. Much of his career, spanning nearly five decades, was spent abroad or working in international affairs. But he began and ended his career in community journalism in his home state of Connecticut.
Mr. Krimsky grew up in New York, California and Roxbury, Connecticut., the second son of John and Angela Krimsky.
He graduated from The Gunnery School in 1960. After attending Middlebury College, he joined the U.S. Army in 1962. Following three years of military service, which included Russian language training and a year in West Berlin, he returned to civilian life and joined The Republican newspaper in Waterbury, Connecticut, as a reporter.
In 1969, he was hired by the Associated Press in Los Angeles where he covered a number of notable events, including the arrest of Charles Manson for masterminding the Sharon Tate murders, the 1971 earthquake in the San Fernando Valley and the Yuba City murders of 25 migrant workers later that year.
He was later assigned to the World News desk at AP headquarters in New York, and in 1974 was posted to the Soviet Union as a correspondent. Nearly three years later, he was expelled from that country on a false charge of espionage. His employer said the real reason for his expulsion was his coverage of dissident activities.
He was then posted by the AP to the Middle East, based in Beirut during the Lebanese civil war, with additional responsibility for coverage of Syria, Jordan and Iraq. In 1978, he was nominated for a Pulitzer Prize.
In 1979, he returned to New York and was later appointed editor of AP's World News Services.
In 1985, he left the news agency to establish with two others (Tom Winship and Jim Ewing) what later became the International Center for Journalists in Washington, D.C. To this day, ICFJ remains the pre-eminent training and assistance center for reporters, editors and news executives from other countries.
After 11 years as Virginia residents, the Krimskys returned to Paula's family home in Washington, Conn., with George taking up work as an independent media consultant. In 2002, he accepted a position as a journalism trainer in Central Asia.
After returning from abroad, he rejoined the Republican-American newspaper in 2005 in Waterbury, where he had begun his career 40 years earlier, as a reporter and columnist focusing on the small towns of Northwestern Connecticut. In 2009, the Academy of New England Journalists awarded him its highest honor, the Yankee Quill Award, for his body of professional work. He retired in 2012.
In addition to writing on media issues for trade publications, Mr. Krimsky co-authored (with John Maxwell Hamilton) a 1995 book entitled "Hold the Press - The Inside Story on Newspapers," aimed at explaining the American newspaper industry to a general audience. He also wrote Bringing the World Home – Showing Readers Their Global Connections, a newsroom handbook commissioned by the American Society of Newspaper Editors. In 2009, he co-authored (with Chandler B. Saint) a history of the life of Venture Smith, an 18th-century New England slave who purchased his own freedom and became a prominent Connecticut businessman. A new edition – "Venture Smith: Making Freedom" - was published in March 2015.
Krimsky is survived by his wife, Paula; two children, Alissa and Michael; six grandchildren, Leo, Isabella, Alexa, Zephyr, Olivia and Emma; his brother, John; his sister, Angela; and four nieces and nephews.
A private service is planned.
The family requests that in lieu of flowers, donations be made to the COPD Foundation of Miami., 3300 Ponce de Leon Blvd Miami, Florida 33134.