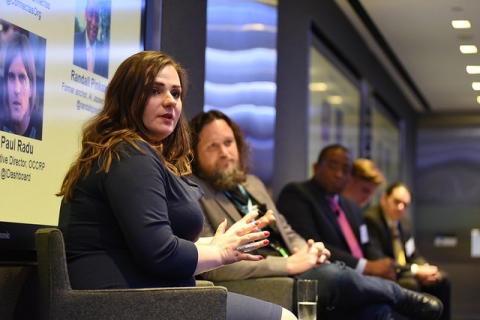 The kind of groundbreaking reporting that broke stories on the Panama Papers has opened a new era of cross-border collaboration among global journalists, according to an International Center for Journalists (ICFJ) panel held on May 17.
Investigative reporters who helped lead the massive project said they worked more safely and effectively through networks of journalists from South America to Europe to Africa to expose the financial dealings of powerful people in their regions.
"A lot of the success of our networks has been that ability to reach across borders," said Justin Arenstein, an ICFJ Knight International Journalism Fellow. He also founded the African Network of Centers for Investigative Reporting (ANCIR), made up of a dozen investigative reporting outlets across the continent.
He said the networks provided protection from retribution by those being exposed. "When they understand you're not the only person with this information, you become safer," he said.
Arenstein appeared on a panel with Paul Radu, co-founder of the Organized Crime and Corruption Reporting Project (OCCRP), which covers 18 countries in Europe and the former Soviet Union; Miranda Patrucic, a lead reporter and regional editor for OCCRP; and Carlos Eduardo Huertas, who leads Connectas, a network of Latin American investigative journalists from 15 countries. The discussion was organized by ICFJ, which helped to create ANCIR and Connectas and partners with OCCRP.
The Panama Papers project involved some 400 journalists from around the world, who took a year to analyze and write about more than 11 million leaked documents on offshore tax havens used to conceal the massive wealth of powerful figures.
"When I worked as a journalist, a single media organization with vast resources could manage a comprehensive global investigation on its own," said ICFJ President Joyce Barnathan, who previously was a top editor at BusinessWeek. "Few have the ability to do that now. We are in a new era, defined by the consortium of journalists that produced the Panama Papers stories."
The yearlong investigation of the Panama Papers was led by the Washington-based International Consortium of Investigative Journalists (ICIJ), which had worked with the participating groups on previous investigations. The documents were initially leaked by an anonymous source to the German newspaper Suddeutsche Zeitung, which shared them with ICIJ.
"Selection of partners was done by ICIJ and it was done on the basis of trust," said Patrucic, who has led reporting projects that exposed corrupt officials and business leaders from Azerbaijan to Uzbekistan. The group "could see which organizations behave in a collaborative way."
At the event, ICFJ announced that Patrucic has won the 2016 Knight International Journalism Award, along with the Mexican investigative journalism team Aristegui Noticias, led by Carmen Aristegui. The awards will be presented at ICFJ's annual awards dinner in Washington on November 14.
Radu, a previous winner of the Knight Award, said it was important that both "the networks and the technology was already in place" to enable the journalists to mine the enormous trove of data produced by the leak of documents from the Panama law firm Mossack Fonseca.
Huertas, of Connectas, said the journalists in his network focused less on individuals and more on the "failures of the system, and how the powerful people used the failures to their own benefit."
Nearly 100 media leaders and ICFJ supporters attended the event, which was hosted by Bloomberg News' Sonali Pathirana and Matthew Winkler, ICFJ Vice Chair, and moderated by former CBS and Al Jazeera America correspondent Randall Pinkston.
Check out a slideshow with photos of the gathering