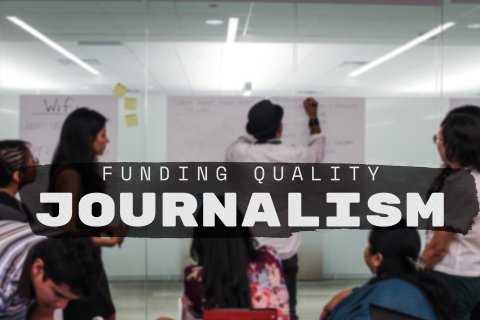 A new global initiative will expose media entrepreneurs to the latest thinking on how to fund quality journalism. The program will feature experts in media sustainability at events in Asia, Latin America, the Middle East and North Africa, as well as webinars and targeted news stories on innovative business models.
The initiative will be run by the International Center for Journalists (ICFJ) and supported by Civil, the decentralized marketplace for sustainable journalism. The program is designed for news entrepreneurs and other media professionals interested in exploring and testing out new business models.
"Now, more than ever, we need innovative revenue drivers," said ICFJ President Joyce Barnathan. "Through this program, we plan to expose media professionals and entrepreneurs to new thinking on how to financially support great journalism."
Day-long events will take place in nine countries - including India, Mexico and Tunisia - where interest in media innovation is high. Each event will feature a combination of speakers and small group discussion where participants can explore in detail how to apply new business models. Participants will also pitch their best ideas to the speakers, and the winners will receive cash prizes along with one-on-one expert consultations.
"Our mission is to power independent, sustainable journalism throughout the world," said Civil CEO Matthew Iles. "Civil will succeed only if we demonstrate massive inclusivity from around the globe to ensure a diverse set of experiences, perspectives and voices. We couldn't think of a more mission-aligned and capable partner to assist us in this effort than ICFJ."
ICFJ will also offer educational webinars with experts, and provide enhanced coverage on news entrepreneurship and sustainability through its International Journalists Network (IJNet.org).
Interested in learning more about this program? Sign up to be the first to know when the events are scheduled.
About ICFJ
ICFJ empowers journalists to deliver trustworthy news essential for vibrant societies. Working at the nexus of journalism and technology, we build the expertise and storytelling skills of reporters worldwide. We promote high-impact journalism that leads to better lives.
About Civil
Civil is the decentralized marketplace for sustainable journalism. Newsrooms focused on local, international, investigative and/or policy journalism are independently run on Civil. Civil is applying blockchain and cryptoeconomics to promote a reader-supported model that isn't reliant on advertisers or other third parties. This enables a more direct, transparent connection between citizens and journalists, and strengthens protections for journalists against censorship and intellectual property disputes. Learn more at civil.co.